Recipes: Over 125 Cuisine: Mediterranean
Author: Jamie Oliver. Released: August 2023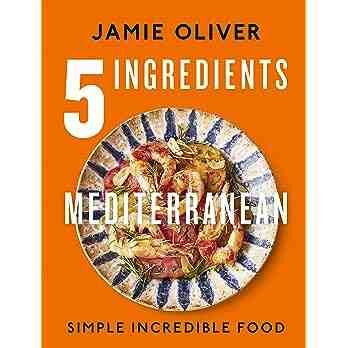 Step into the Mediterranean with Jamie Oliver's latest culinary masterpiece, 5 Ingredients Mediterranean. This delightful sequel takes everything you adored about the first book and adds a dash of Mediterranean magic, inspired by Jamie's lifelong adventures in the region.
---
What is Jamie Oliver's Mediterranean cookbook?
Inside, you'll discover over 125 delectable, fuss-free recipes that will infuse your everyday cooking with excitement and transport you to sun-soaked shores. No more daunting grocery lists or endless hours of cleanup – it's all about creating incredible flavors with minimal ingredients.
Why you'll love it
A whopping 65% of the recipes are either meat-free or designed to reduce meat consumption, all while delivering those bold, mouthwatering Mediterranean tastes.
Explore chapters like

Salads
Soups and Sarnies
Pasta
Veg
Pies and Parcels
Seafood
Fish
Chicken and Duck
Meat and Sweet things
Jamie Oliver Mediterranean Recipes
This cookbook is a true celebration of the Mediterranean's heroic flavors and ingredients, offering quick and easy recipes to infuse your everyday cooking with excitement. Say goodbye to culinary monotony and let Jamie Oliver's 5 Ingredients Mediterranean guide you on a flavorful journey like no other!
Indulge in dishes like:
Tender smoky aubergine,
Epic prawns & beans,
Rogue ratatouille risotto,
Sizzling squid,
Island salad,
Herby steak & crispy potatoes,
Easy fig tart, and
Jools' chocolate dreams.
You might like more…
MORE MEDITERRANEAN RECIPES: