Usually served with simit, feta cheese, olives, and Turkish tea, Turkish Shakshuka actually called menemen in its home country, is considered a breakfast (kahvalte) staple in every Turkish household for centuries.
Simple, delicious, and packed with nutrients, this dish is genuine street food and a brilliant family dish for brunch, lunch, and even dinner!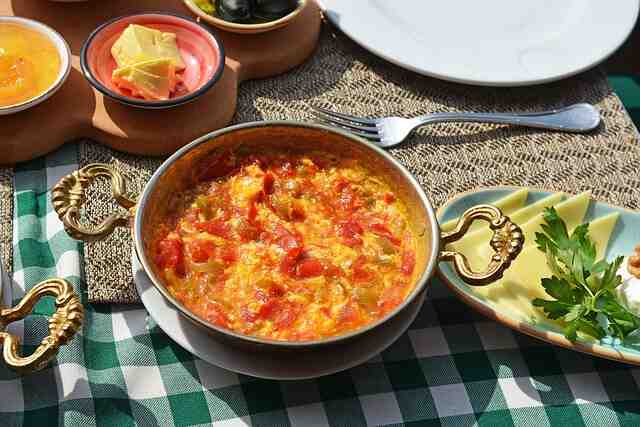 Yields: 2 portions
Prep Time: 5 mins Cook Time: 20 mins Total: 25 mins
---
How to serve Menemen
I love to cook this in a large skillet so as to have enough space for the eggs. And it's lots of fun sharing with your loved ones using the same dish or skillet in which it is cooked.
With Turkish Shakshuka (Menemen) it's amazing when someone dips a freshly baked piece of bread and dips it into the delicious sauce with a creamy texture.
Alternatively, in the traditional Tunisian/Iranian shakshuka you can pop the soft runny egg yolks and enjoy dipping the bread and veggies while eating.
What to eat Menemen with?
So if you don't know what to serve with shakshuka for breakfast just follow the Turkish breakfast traditions and you won't be sorry!. Accompany the menemen with bread, olives, feta cheese, honey, yogurt-cucumber dip, jams, and even fries!
Honestly, you cannot miss drinking 2 or 3 cups of cay tea with it to start your day.
Turkish Shakshuka – a Step by Step Guide
Cooking the Menemen Scrambled Eggs (Turkish Shakshuka)
This recipe is very simple if you follow these suggestions.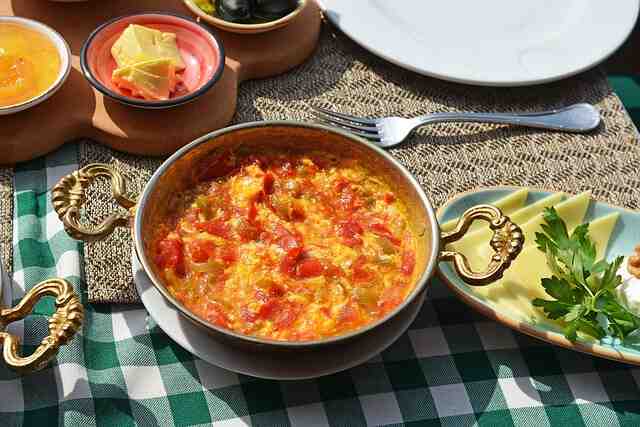 Chop the vegetables
STEP 1
I always take some time chopping vegetables. I find that the vegetables cook much better and faster when I chop everything finely. Furthermore, this makes it much easier to eat and share.
Fry the vegetables
STEP 2
For the Menemen add the chopped green peppers together with the salt, pepper, and chilli pepper, mixing everything thoroughly. Cook for a few minutes.
STEP 3
When the green pepper is almost cooked, add the chopped tomatoes and leave them to cook for a few minutes.
Fry the eggs
STEP 4
Beat the eggs and mix them with the vegetables, stirring the eggs constantly to prevent them from sticking to the pan/skillet.
Serve
STEP 5
Don't overcook the eggs cause Menemen is supposed to have a creamy spreadable texture. When cooked, serve hot with fresh bread.
» Cooking the other Shakshuka (Tunisian Origin)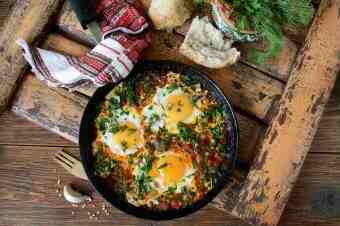 For Shakshuka add one chopped onion and garlic. I admit to using garlic powder very often or nothing at all especially in the morning. Fry for a few minutes until the onions become soft and translucent.
After a couple of minutes, add the sliced or chopped red pepper (instead of the green pepper) together with some of the green onions, and the ¼ tsp black pepper, and the ¼ tsp cayenne pepper, mixing everything thoroughly. Cover with a lid and leave for a couple of minutes on medium heat until the red peppers are well cooked. Usually, the red pepper contains lots of moisture, and if you cover it with a lid the moisture is kept in the skillet thus avoiding drying too much the mixture.
When the red pepper is almost cooked, add the chopped tomatoes or tomato sauce and leave to simmer for a few minutes.
Make room for the eggs using a spoon, breaking the eggs into the hollows,
Let it simmer uncovered until slightly cooked for 5 minutes to have runny yolks or 10 minutes if you prefer well-cooked eggs
FAQs
Menemen vs Shakshuka

Shakshuka and Menemen are two slightly different dishes.

⭐We cook the eggs whole in Shakshuka whereas, for the Turkish Menemen we do scrambled eggs mixed in the tomato mixture.

⭐Moreover, Shakshuka contains red pepper but Turkish Menemen use green pepper.

⭐The combination of spices could vary in both dishes as well. Shakshuka has a Tunisian origin but the other one is Turkish. 
Want more Breakfast and Brunch Recipes?
Print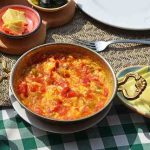 Turkish Shakshuka Recipe (Menemen)
---
Total Time:

25 minutes

Yield:

2

1

x
1 tbsp

Olive oil

1

Green Pepper, finely chopped

4

Roma Tomatoes, finely chopped or grated

¼ tsp

Black Pepper, ground

¼ tsp

Salt

4

Eggs, medium
---
Instructions
In a large skillet, heat the oil.
Add the red pepper together with the salt and pepper and cook until soft.
Add the chopped tomatoes and stir occasionally for a few minutes until they are soft and some water is evaporated .
Mix the eggs with the tomatoes and stir occasionally leaving the texture of the sauce creamy
Serve, optionally with some chopped green onions on top for garnish and serve hot with fresh bread.
Notes
For Menemen (Turkish Shakshuka)
Stir the eggs constantly to prevent them from sticking to the pan/skillet.
Don't overcook the eggs cause menemen is supposed to have a creamy spreadable texture.
Optionally sprinkle feta or white cheese before serving
For Traditional Shakshuka:
Replace the green pepper with the red pepper
Saute one yellow onion and garlic clove together with the green pepper.
Leave space in the skillet to crack open the eggs and cook them as a whole.
Prep Time:

5 minutes

Cook Time:

20 minutes

Category:

Breakfast, Brunch, Dinner, Lunch

Cuisine:

Mediterranean, Turkish
Nutrition
Calories:

384

Sugar:

6

Sodium:

550

Fat:

10

Saturated Fat:

4

Carbohydrates:

36

Fiber:

10

Protein:

22

Cholesterol:

370
Keywords: menemen, turkish eggs shakshuka, turkish menemen, turkish shakshuka
Recipe Card powered by