Hobz biz-zejt is the most traditional, exquisite savory dish served in most cafes in the Maltese islands. A fresh recipe that is prepared at the last minute, and can be used as an appetizer, first course or second course!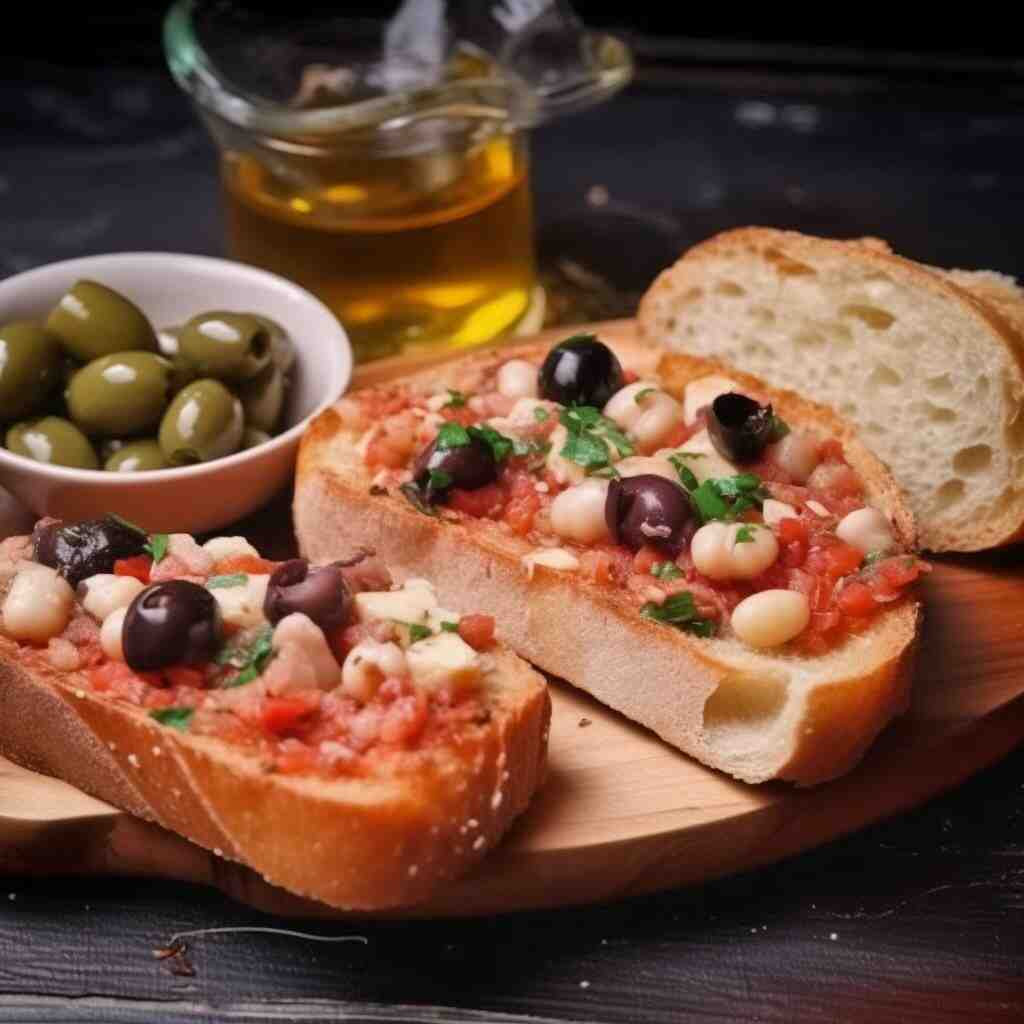 Yields: 4 portion
Prep Time: 5 mins Cook Time: 0 mins Total: 5 mins
---
What is Hobz biz-Zejt
Hobz biz-zejt literally means "Bread with Oil" referring to the crispy and popular Maltese bread, covered with tomato paste and filled with tomatoes, tuna, beans, olives, cheeselet, spices, and lots of olive oil. For this recipe, you can use the famous Maltese loaf or a Maltese ftira which is a flat rounded sourdough bread. I will leave it up to you which one you want to pick as I find it really difficult to suggest which is the best!

Actually, the pairing of bread and olive oil is very popular in the Mediterranean region. Truly what makes this recipe ridiculously delicious is the unique taste of Maltese bread. And that's why it may be hard to replicate this goodness if you live anywhere else in the world. The main characteristic of Maltese bread is the hardness of its crust and a softer center full of large holes that makes it incredibly good both fresh and toasted. When I lived in central Italy, I used to bake my own bread cause I couldn't get used to the taste and texture of their bread. Later I learned from my work colleagues that I should ask the bakery for Neapolitan, Sicilian, or any bread from SouthI Italy which was the closest taste I could ever get to the Maltese loaf.
This recipe can also be adapted for fussy eaters by using Maltese bread, smearing it with tomato paste, and adding a little olive oil. Optionally, you might also want to replace the cheeselet with sliced cheese, especially for the kids. I remember as a kid I would only eat it with tomato paste, olives, tuna, and olive oil and then as I grew up I started to appreciate all ingredients. As a note, together with the olives you can also add capers but I'm not a big fan of the latter. Eating Hobz biz-Zejt takes me back down memory lane where I and my memory shared special moments while eating a simple bruschetta for lunch at home or at the beach.
Hobz biz-Zejt Ingredients
8 slices of Maltese bread or 2 ftajjar (sourdough bread)
1 can cannellini beans
15 large olives (green or black), sliced
1 cheeselet, sliced
1 large can tuna in oil
5 ripe cherry tomatoes, halved or quartered
1 small onion
Basil or parsley to taste
Salt and black pepper
Extra virgin olive oil
Hobz biz-Zejt Step by Step
Remove the beans from the storage water and pour them into a colander, rinse them under running water
Put the beans in a bowl
Peel and finely slice the onion and place it in the bowl with the beans
Also add the previously cut cherry tomatoes, olives, cheeselet and tuna in oil
Wash the basil, break it up with your hands, and add this too to the bowl
Season with salt and extra virgin olive oil, mix gently
Heat up the cast iron skillet
Cut the slices of bread, you will need 8 slices for these doses
Toast the slices of bread on the hot cast iron pan
Let them toast on both sides
Remove them and dress them with the tuna and the beans
Place the bruschetta on a serving plate
Serve the Hobz biz-Zejt on individual plates and enjoy your meal.
You might also like…
More Mediterranean Food typically with tomatoes and olives
Print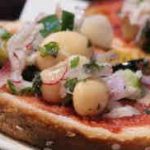 Hobz biz-Zejt (Maltese Bruschetta)
---
8

slices Maltese bread (or

2

ftajjar (sourdough bread))

1

can cannellini beans

15

large olives, sliced (green or black)

1

cheeselet, sliced

1

can tuna in oil, large

5

cherry tomatoes, halfed or quartered (ripe)

1

onion, small
Basil or parsley to taste
Salt and black pepper
Extra virgin olive oil
---
Instructions
Remove the beans from the storage water and pour them into a colander, rinse them under running water
Put the beans in a bowl
Peel and finely slice the onion and place it in the bowl with the beans
Also add the previously cut cherry tomatoes, olives, cheeselet and the tuna in oil
Wash the basil, break it up with your hands and add this too to the bowl
Season with salt and extra virgin olive oil, mix gently
Heat up the cast iron skillet
Cut the slices of bread, you will need 8 slices for these doses
Toast the slices of bread on the hot cast iron pan
Let them toast on both sides
Remove them and dress them with the tuna and the beans
Place the bruschetta on a serving plate
Serve the Hobz biz-Zejt on individual plates and enjoy your meal
Prep Time:

5 minutes

Cook Time:

0 minutes

Category:

Lunch, Snack

Method:

Mixing

Cuisine:

Maltese, Mediterranean
Keywords: ftira biz-zejt, hobz biz-zejt, maltese bruschetta
Recipe Card powered by