Whether you fancy your morning latte or comforting mugs of cocoa, we've got an alternative winning equally comforting homemade beverage – the Turmeric Latte.
Renowned in Ayurveda for its "HEALING POWERS" this warm hearty latte instantly instills calmness and also promotes wellbeing, healing the body and releasing pain. It's a dream come true!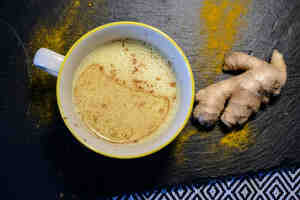 Yields: 2 cups
Prep Time: 5 mins Cook Time: 5 mins Total: 10 mins
---
What is Turmeric Latte?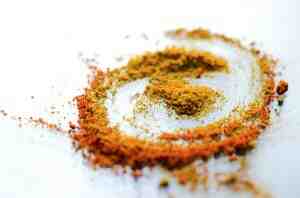 Did you know that Turmeric, the main ingredient, is a staple ingredient used for healing in India for thousands of years? Above all, ancient people embracing Ayurvedic practices already knew how to maximize the benefits of turmeric.
Curcumin, the active ingredient found in Turmeric, has limited bioavailability. In other words, curcumin is not easily absorbed and used by the body. Interestingly, that's how the turmeric latte was conceived! In fact, traditionally, the warm mixture of turmeric, milk fat, and black pepper was considered to be the best way for curcumin to get absorbed into the bloodstream.
Nowadays, this recipe has many popular variations. For instance, I love the vegan alternative of using coconut milk and adding honey or agave syrup for vegans. Optionally you can also add cinnamon and ginger root to enhance the taste while also adding the anti-inflammatory properties of these spices.
Turmeric Latte: One of the Eastern Healing Practices
When we are sick we mostly turn to Western medicine. However, when Western evidence-based medicine fails to solve our problems we often complement our therapy using Eastern integrative treatments.
To clarify, Eastern healing practices revolve around the flow of Qi. That is to say that any disruptions in the flow are believed to have a negative effect on our health. For instance, acupuncture is a popular therapy that focuses on restoring the Qi flow. Nowadays, many physiotherapists use acupuncture to treat patients, inserting super-fine needles into specific points. To sum up, my therapist believes that inserting needles into specific points, flags these areas to the nervous system to stimulate blood flow in the area and eventually reduce inflammation.
Unfortunately, it's hard to scientifically prove the need of balancing the Yin and Yang in the body and regulating the flow of Qi. Thankfully, treatments like Acupuncture are now treated respectfully in the Western world. I am a great believer in trying natural remedies and also believe that therapies such as Acupuncture, Yoga, and Thai Chi promote a sense of well-being and relaxation connecting us more to our bodies. So why not embrace Turmeric Latte as well?
✔️ The Benefits of Turmeric Latte
Surprisingly, Turmeric Latte can be a good alternative to anti-inflammatories or painkillers. Furthermore, it has a very calming and relaxing effect making it ideal also for those who suffer from anxiety or panic attacks, especially if taken with honey.
Do not take Turmeric Latte if you're on blood thinners or any anticoagulant medicine cause it's a "natural blood thinner" and as such, we should use it in moderation.
WHAT IS INFLAMMATION?
In a nutshell, inflammation is the localized natural response of the body to infection or injury. Though it's usually a protective mechanism, if it persists for a long period then it can become chronic inflammation. Unfortunately, most anti-inflammatories can only be taken for a maximum of 5 days as prescribed by the doctor. Actually, getting one prescription after the other may result in even more serious consequences. Of course, there are other treatments one can try to treat problems such as joint pain, arthritis, sciatica, and IBS. However, the Steroid Injection (also called corticosteroid injection) but even are ideally limited to 3 shots a year, and sometimes their effect is poor or lasts very little.
FAQs
Is Turmeric Latte safe?

YES! Turmeric Latte, Golden Milk, or Turmeric tea are safe to use in moderation unless you're not on blood thinners or pregnant. In general, it's safer to drink homemade turmeric lattes especially if you have any allergies or have sensitive stomach issues. If you're pregnant it's better to drink Turmeric Latte occasionally provided you don't add cinnamon.

Does it work?

Its HEALING POWERS are yet to be scientifically proven! However, many people have tried it, and helped them lower inflammation and reduce pain by spending just a few cents!
Why there is so much hype on Turmeric Latte?

True, Turmeric Latte is currently described as a wonder drug or a super spice which together with matcha seems to be very trendy at the moment! Turmeric Latte couldn't be just hype because no one is earning money out of this. This doesn't mean that it benefits everyone.

If we're in pain, can we try it out?

If you're tempted to try it out for some of its claimed benefits, keep in mind that it may not always work and that it shouldn't be taken together with blood thinners. However, if you're in constant pain and you know that you can't keep taking all the Advil, Ibuprofen, Paracetamol, and Anti-Inflammatories then it makes sense to give it a try.
You might like more…
Print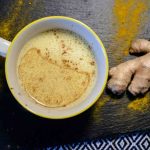 Turmeric Latte Recipe
---
Total Time:

10 minutes

Yield:

2 cups

1

x
Description
Turmeric Latte is the ultimate healthy vegan, keto, easy recipe that you can alternate to the morning Matcha or bulletproof coffee. This golden milk has anti-inflammatory benefits, improves digestion and promotes fat loss. Mix turmeric, cinnamon, ginger, black pepper with coconut milk and simmer. Serve warm or iced and enjoy all the benefits!
---
2 cups

unsweetened and full fat coconut milk (or any other full fat milk)

1

stick cinnamon or

½ teaspoon

ground cinnamon

2

inches fresh turmeric sliced or

2 teaspoons

ground turmeric spice

1

inch fresh ginger sliced or

½ teaspoon

ground ginger
Pinch of black pepper

1 tablespoon

maple syrup or honey
---
Instructions
Place milk, cinnamon stick, turmeric, ginger, coconut oil, and black pepper in a small saucepan.
Cook, stirring frequently, until warm but not boiling.
Add in your sweetener.
If you used fresh turmeric and ginger, strain it to your cups. If not, divide it in two mugs and serve
Prep Time:

5 minutes

Cook Time:

5 minutes

Category:

Breakfast, Drinks, Snack

Cuisine:

Indian
Keywords: Antiinflammatory, Golden Milk, Healing, Turmeric Latte, Vegan Turmeric Latte
Recipe Card powered by