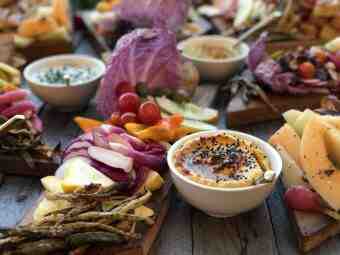 ---
Why are healthy savory snacks so important?
Healthy breakfasts and snacks are equally important as lunch and dinner. I am a firm believer that eating nutrient-­packed foods is crucial to satiate hunger. Occasionally when I skip breakfast or forget to prepare my own healthy savory snacks or equally healthy sweet treats, I find myself without energy throughout the day. Skipping meals for me means that I will start nibbling random store-bought snacks and keep feeling hungry until I eat a snack or meal with the correct ratio of macronutrients.
When you're hungry, your body doesn't necessarily need any food but proper nutrition. If you feed it foods that are poor in nutrients your brain and body will never really feel totally satisfied.
What is the problem with store-bought savory snacks?
The problem with the classic ad-hoc store-bought snacks is that they are loaded with salts and sugars. Practically, they contain no nutrients despite the labels indicating they're healthy. So when we think we are eating healthy food we're in fact eating chemicals!
Basically if in the ingredient list of a cereal bar or smoothie you have a number of items that you can't even read, then you're going to eat a lot of processed stuff that your digestive system will struggle to handle.
Don't believe such labels:
wholemeal,
extra fiber,
fat-free
sugar-free,
diet,
light,
no added sugar,
100% natural
Why these snacks work?
These snacks are suitable for anyone who wants to lose weight, eat a well-balanced diet, or build muscle. These breakfasts and snacks have the correct balance for losing fat but not muscle. They have been tried and tested by those who seek perfect bodies including celebrities and bodybuilders who have discovered long ago the benefits of eating fewer carbs and more protein and fats in our diet.
The aim of these meals is not to restrict calories but to eat clean, best quality nutritional food. This helps our body detox and get in control of our hormones. Our goal is learning to get in control of our choices. The recipes are very tasty and filling and once you get used to them you'll never go back to any binge diet or eating uncontrollably.
Popular healthy savory snacks
FAQs
How do I plan my snacks?
Each recipe can be integrated into a meal plan with 4-6 meals/snacks per day. They can also be integrated with an intermittent fasting meal plan ideally opting for a bulletproof coffee as a breakfast to kick start your brain and prolong the fast.
MY WEEKDAY TYPICAL MEAL PLAN:
7 am: Cacao Powder with Coconut Oil & Coconut Milk (No Carbs No Proteins for intermittent fasting) or any other snack/breakfast if not fasting.
7.30 am : 45 minute swim / workout
9 am: Boiled Eggs & Soldiers (Breakfast / Post Workout Snack)
13 pm: Tuna / Bean Salad
16 pm: Berry Smoothie
18.30 pm: Salmon Goji Curry with Bulgur Wheat
Never cooked before?
If you're not used to cooking start now. Learning to cook is the best thing you can do for your health. These recipes besides are very simple to follow with few basic ingredients.
Another important thing is to follow the recipes using the proper quantities. Don't try to reduce any fats thinking you'll lose weight faster or because your doctor told you to control your cholesterol levels. Skipping the almonds, walnuts, yogurt, or olive oil or using too much of them is going to make the meal unbalanced.
What snacks should I choose for Weight/Fat Loss?
I suggest that when choosing your healthy breakfast and snacks, you should try to vary the meals as much as possible. If you're trying to lose weight then my advice is to limit higher carbs meals such as pancakes, cacao almond balls, and power granola to once or twice per week until you reach your goal.