Tomato Bruschetta with Garlic and Basil is an appetizer on bread that is so refreshing and quick to prepare. Easy to say "I'll prepare a bruschetta", but do you know that even this very simple recipe has its rules?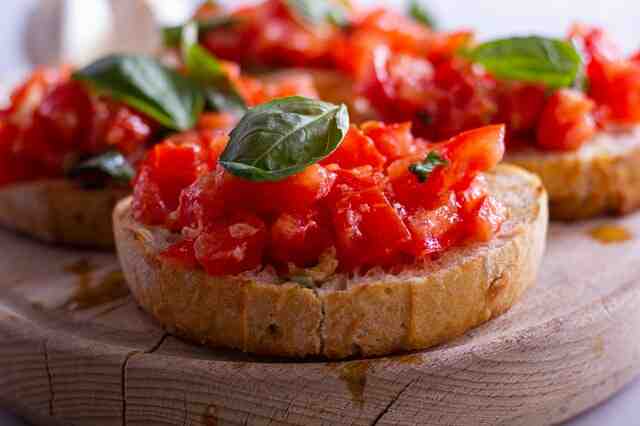 Yields: 4 portion
Prep Time: 5 mins Cook Time: 5 mins Total: 10 mins
---
How to make Bruschetta?
It is not enough to toast a slice of bread and dress it in oil and tomato. To prepare a proper bruschetta you have to follow some basic rules!
Italian Toast Bread
Let's start immediately with the bread – the most essential element of this recipe. In this case, homemade is simply your best choice since the crumb (inner part of the bread loaf) remains crunchy and perfectly absorbs all the seasonings.
Great choice
✔️ Large bread, crunchy crust, and a resistant crumb
✔️ Tuscan Bread
✔️ Pulian Bread
✔️ Sicilian Bread
✔️ Maltese Bread
Cannot be bruschetted
❌ Sliced Bread
❌ Packaged Bread
❌ Overly Processed Bread
❌ Arab Bread
❌ Focaccia
❌ Baguettes
❌ Rosettes
Ingredients Bruschetta
A slice of warm, crunchy bread is already good so natural, but if you rub it with a clove of garlic and season it with oil and salt it becomes a wonderful meal.
Adding Tomato and Basil
If you want to add other ingredients, in summer I recommend the classic slice of fresh tomato with a few basil leaves, a little extra virgin olive oil, and a pinch of salt.
If you have many guests, prepare the dressing in advance by cutting a San Marzano tomato or ox heart into small pieces and season with oil, basil, and salt. This way it will be much tastier. Then, once the toasted bread is ready, add the tomatoes and serve immediately.
Top Tips for Cooking the Perfect Bruschetta
✔️ Toast on a hot grill. You can toast it in the oven, in a nonstick pan, or in the griddle, but it will never be as good as the one cooked on the hot grill.
✔️ The bruschetta bread must be warm and crunchy. Just cut the slices thick enough and then cook them for two minutes on each side until they are golden on the outside and soft in the heart.
✔️Another secret of the perfect bruschetta is the temperature. The bread must be cooked and seasoned and then immediately consumed otherwise the seasoning penetrates too much inside the crumbs making the bread moist and soft.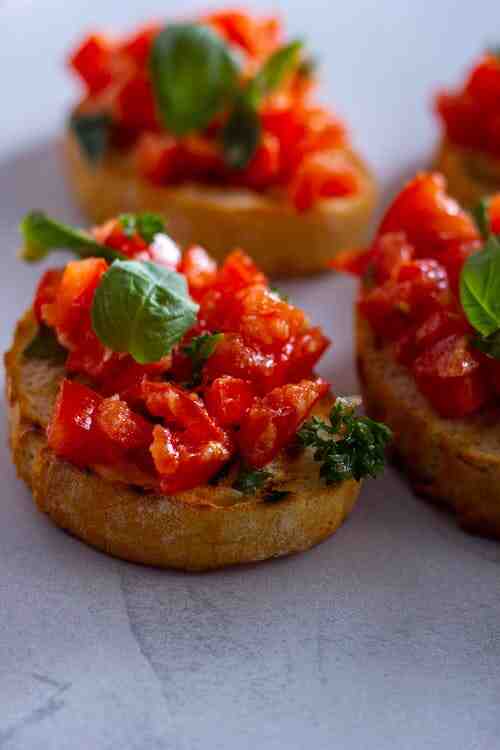 Other Recipes with Basil and Tomato
Gigi Hadid Pasta Recipe (Spicy Vodka Pasta)
Print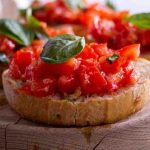 Best Bruschetta Recipe
---
Total Time:

10 minutes

Yield:

4

people

1

x
1

Homemade bread (or Tuscan loaf)

3 tbsp

olive oil (extra virgin)

4

cloves garlic

3

San Marzano Tomatoes or ox heart diced

8

leaves, fresh basil (washed and dried)
Salt and pepper to taste
---
Instructions
In a bowl mix well the tomatoes, fresh basil, salt, pepper and oil.
Optionally you can set aside for 30 minutes to enhance scents and flavors
Preheat the grill
Cut the bread into 1/4-1/2-inch slices and place the slices of bread on the grill. Grill them on both sides until toasted.
Flavor the slices of bread by rubbing a clove of garlic on the freshly toasted slices.
Top each bread slice with the tomato salad, drizzling more oil if needed.
Let rest for a minute and serve you Tomato Bruschetta with Garlic
Notes
Basil Tomato Recipe
This is always a safe bet with guests. Optionally add some oregano or italian seasoning.
Mozzarella Tomato Basil Bruschetta
Are you a fan of mozzarella? Add it only if it's a high quality Mozzarella di Bufala. I prefer to cut it in thin slices and even the smaller balls can work as well
Bruschetta with Balsamic
If you're a fan of balsamic vinegar, then a few drops of the finest balsamic vinegar can satisfy your taste buds. Don't exaggerate though and avoid the sweet balsamic you find in the store.
Prep Time:

5 minutes

Cook Time:

5 minutes

Category:

Appetizer

Cuisine:

Italian
Keywords: Bruschetta, Bruschetta with Garlic, Tomato Bruschetta with Garlic and Basil
Recipe Card powered by