With its exotic flair, the Gigi Hadid Vodka Sauce often called Spicy Vodka Pasta makes a comeback from the 80s. This beloved red sauce, now popular as Gigi Hadid Pasta recipe, was disappearing until the model posted it before appearing on Jimmy Fallon's Tonight Show.
The Gigi Hadid Vodka Sauce (with or without Vodka) is an ideal dish for a romantic candlelit dinner. The delicate balance of flavors will be a real treat for the palate of your guests. Want to impress tonight with this super easy recipe?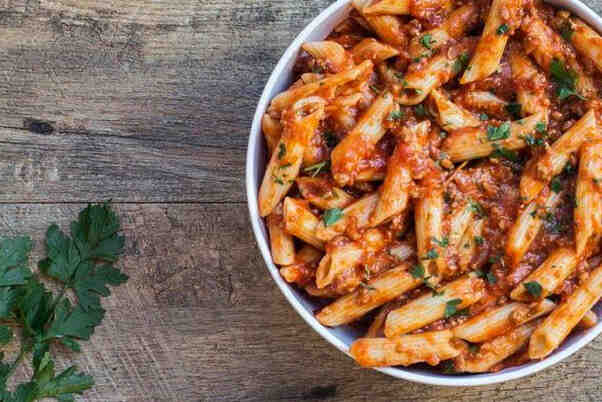 Yields: 4 portion
Prep Time: 5 mins Cook Time: 10 mins Total: 15 mins
---
What is the Gigi Hadid Vodka Sauce Pasta?
This Spicy Vodka Pasta is a great classic of Italian cuisine. It's a tomato-based sauce pasta smoothened with fresh cream, and spiced with bacon, half a glass of vodka, and optionally some red pepper flakes topped with a touch of parsley.
In 2020, Gigi Hadid decided to share on her Instagram a moment of her life in the kitchen that went viral! The famous vodka pasta has been on repeat everywhere across the world ever since. Surprisingly, Gigi didn't add any vodka to the pasta because at the time she was also pregnant. She also joked that it is Pasta alla Vodka without vodka.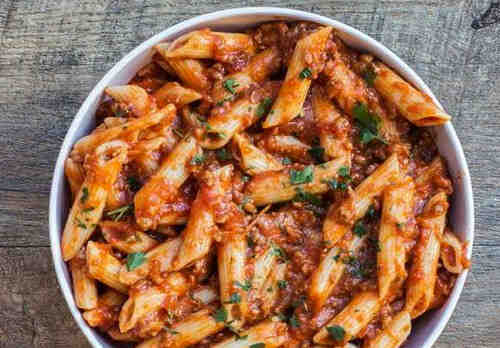 Ingredients for Gigi Hadid Vodka Sauce
FOR PASTA
Penne rigate. Particularly great since they fill up with flavorful sauce. My other favorite is Farfalle.
FOR GIGI HADID VODKA SAUCE
Extra virgin olive oil. Sometimes I like to use the olive oil from the sun-dried tomato jar for even more flavor.
Shallot/Onion. Finely chopped fresh shallot or onion.
Tomato Sauce. Tomato sauce or puree gives richness and depth to the sauce. Always choose organic and high-quality tomato puree.
Cream. Any cream works fine. I prefer a lighter cream since I still manage to get a consistently thick sauce!
Red pepper flakes: Optionally added red peppers for a spicier kick.
Parsley. I love to use dried or fresh parsley as a garnish on serving.
Salt and pepper. Add a pinch to taste. Personally, I ditch the salt since the bacon is already too much salty for me.
How to make pasta with Gigi Hadid Vodka Sauce?
STEP 1: Prepare Gigi Hadid Vodka Sauce
Slice the shallot thinly and sauté it in a pan with a drizzle of oil and the diced bacon for about ten minutes.
Add the tomato sauce, diluted in a little water, and continue cooking for another 5 minutes. Add the vodka and let it evaporate. Add the cream and reduce the heat. Season with salt and a grind of pepper.
STEP 2: Boil the pasta and mix it with the sauce
Boil the pasta in lightly salted boiling water. Drain it "al dente" and transfer it to the pan with the sauce. Sauté over high heat for a minute, remove and serve, sprinkling with Parmesan to taste.
Variations
Gigi Hadid Pasta without Vodka. Just skip the vodka. You don't need to add any substitutes but just cook the other ingredients well imagining you're taking some time to evaporate the vodka.
Vegan Gigi Hadid Pasta. Swap the bacon with vegan bacon or sausage and choose soy cream to replace the cream
Low Fodmap Gigi Hadid Pasta. Replace the cream with soy cream or Greek Yogurt and avoid the shallot and vodka.
FAQ
Where did Gigi Hadid pasta come from?
This pasta originated in Bologna, Italy in the 1970s though many associate the use of vodka with Russian cuisine traditions.
Does Gigi Hadid pasta need vodka?
Gigi Hadid pasta doesn't get its flavor from vodka. Consider vodka as the ingredient that gives the pasta that extra spicy kick.
Can I use milk instead of cream Gigi Hadid pasta?
Milk can be used but expect the sauce to be lighter unless you thicken it using some cornstarch. Another lighter alternative to cream that works better is usually Greek Yogurt which adds both creaminess and taste to the sauce.
What can replace vodka in vodka sauce?
You can replace the vodka with a squeeze of lemon but avoid adding any water or another spirit to the sauce.
Print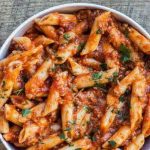 Gigi Hadid Spicy Vodka Pasta Recipe
---
Total Time:

15 minutes

Yield:

4

people

1

x
12½ ounces

Penne rigate (

350g

)

¾ cup

Bacon, cubed (or pancetta)

1 cup

Tomato puree

1

Shallot (or a small onion)

2 tbsp

Olive oil, extra virgin

1 cup

Cream

5 tbsp

Vodka

1

pinch Salt and pepper

1

pinch Red pepper flakes
---
Instructions
While boiling the water and then boiling the pasta, finely chop the shallot and brown it in a pan with the chopped pancetta.
Now add the vodka and let it evaporate and then the tomato purée and a sprinkling of salt, pepper and chilli. Stir and cook for a couple of minutes.
Now add some parsley or a few leaves of fresh and finely chopped thyme. Now add the cream and mix.
As soon as it is al dente, drain the pasta and pour it into the pan. Stir over medium heat and mix the pasta with the sauce.
 Serve the Gigi Hadid pasta with vodka still hot. 
To add a touch of flavor and refinement to the dish you can add a tablespoon of fresh grated Parmesan cheese and sprinkle some parsley. Enjoy!
Notes
Gigi Hadid Pasta without Vodka
Since the model was pregnant when she shared the recipe, she joked that it is Pasta alla Vodka without vodka. Also, she omits the bacon despite being used in the original recipe.
Prep Time:

5 minutes

Cook Time:

10 minutes

Category:

Dinner, Lunch

Cuisine:

Bolognese, Italian
Keywords: Gigi Hadid pasta
Recipe Card powered by