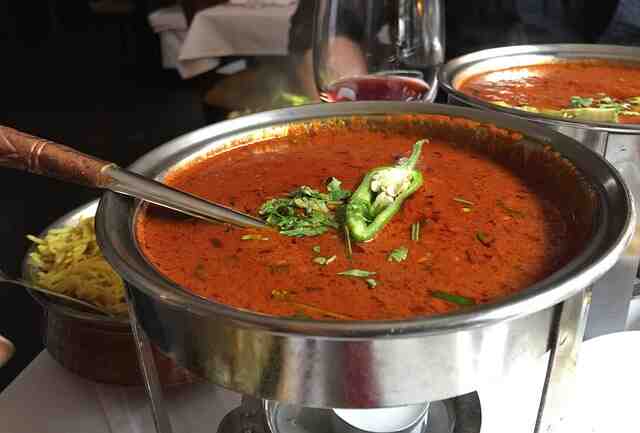 Ready in 20 + 2 hours = 2 hr 20 mins
Serves several servings depending on the curry e.g. 2 ladles for chicken jalfrezi
Tips
Try this homemade BIR Curry base required for every BIR Curry dish that you can prepare at home. It can be used for your favorite recipe for Chicken Korma or Chicken Tikka Masala. It's completely vegan and so you can also use it with your preferred vegan curry like my Vegan Jalfrezi recipe with Chickpea and Tofu. Just add a ladle or 2 to the curry recipe and it will instantly add flavor. The Achni stock is added to the base gravy to add more layers and greater depth to the gravy. I suggest freezing separate portions in a way that can easily be unthawed and used quickly in a curry without having to unthaw all the gravy at once.
Ingredients
6 onions large (2 1/4 pounds), halved
6 garlic cloves, peeled
6 tbsp, ginger, cubed
1/2 red pepper, sliced
1 green chile, finely chopped
1/2 carrot, sliced
1/2 potato, small
handful, lentils
3 1/2 oz white cabbage
1 tin, peeled tomatoes
1 tbsp tomato puree
2 oz coconut block
1/2 cup sweetened condensed milk
1/4 cup vegetable oil
2 tsp turmeric powder
2 tsp cumin powder
2 tsp coriander powder
2 tsp paprika
2 tsp tandoori masala powder
1 tsp salt
4 cups water (adjust to cover the veggies in the pot)
bunch of coriander, fresh
AKHNI VEGETABLE STOCK
3 cups water
7 green cardamoms
4 cloves
2 tsp fennel seeds
2 tsp coriander seeds
2 tsp cumin seeds
2 tsp black mustard seeds
1/2 star anise
1 piece cinnamon
How to make BIR Curry Base Gravy?
Prepare AKHNI STOCK. In a pan bring to boil the water together with all the ingredients for 10-20 minutes.
Prepare the BIR Curry ingredients. Just peel, halve, cube, slice, or chop if required. Otherwise, leave it as a whole.
Add the veggies – onions, red pepper, carrot, garlic cloves, ginger, tomato puree, tomatoes, carrots, potato, green chile, and a handful of lentils.
Add the liquids – coconut block, and condense milk and enough water to cover the veggies
Bring to medium heat, and after the AKHNI broth is ready, ad the liquid part of the vegetable stock to the BIR Curry Gravy.
Simmer the BIR Curry for up to 2 hours adding water when necessary.
Blend the BIR Curry gravy using a hand blender until smooth and no chunks.
Add water if necessary to ensure that the texture is like that of milk.
Try it out immediately by using it as a base )n a BIR Curry or freeze it in portions (multiple ladles per portion)
---
If you love this recipe…
---
---