Are you thinking about preparing a Valentine's Day Pancakes for breakfast or Valentine's brunch? Since this year Valentine's Day is going to be on a weekday you can also prepare a very early breakfast for Tuesday or a very late brunch.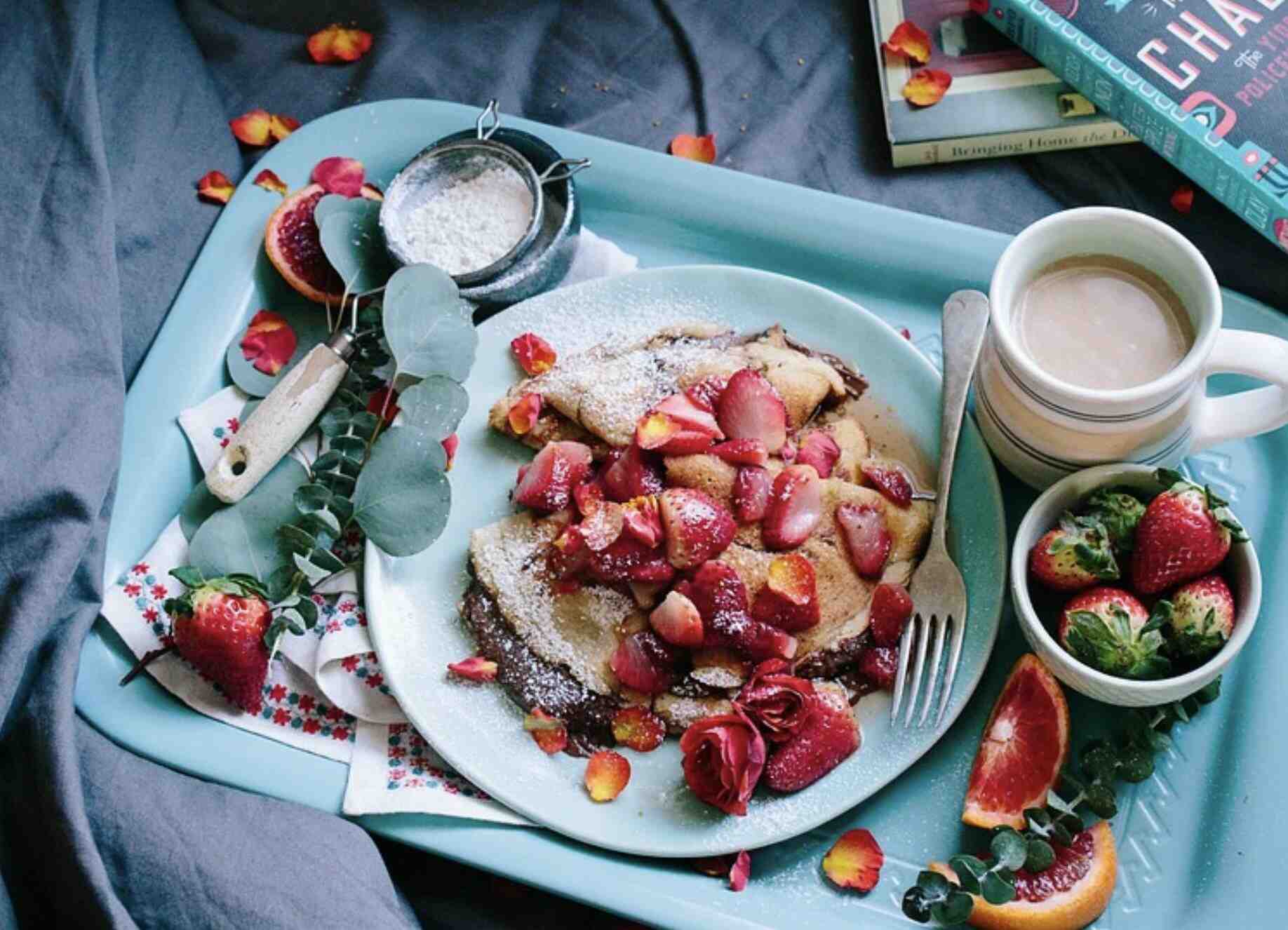 ---
How to choose a Valentine's Day Pancakes?
All the pancakes presented here are great choices with options for different dietary needs. However, I want to highlight that whatever your choice the most important thing (other than not burning them) the way you present them. My first choice is to serve it with chocolate and strawberry but you can also opt for white chocolate and blueberries or yoghurt and nuts.
Apart from the sweet pancakes I will also propose some savory pancakes which you can serve with cheese, bacon. It's all yummy!
Valentine's Day Pancakes
These diner style pancakes use the most standard ingredients like flour, eggs, sugar and milk. They're the easiest to do and I'm sure you can find all the ingredients in your pantry even if you decide to prepare Valentine's day pancakes the very last minute. However, if you have different nutritional needs you can take a look at my other pages on cooking pancakes without using dairy milk and an article on how to substitute Flour 00 in sweet and savory dishes.
---
These are by far one of my favorite pancake recipes but instead of flour we use mochi (a kind of rice flour) making it crunchy on the outside and fluffy on the inside and we also use ube flavors which give it the purplish effect. I'm in love with this recipe and on Sunday morning for at least 3 months it was the must do breakfast for me and the kids. Actually, this recipe is much more nutritious and healthy perfect for all the family.
Tip: Since the recipe is not that sweet you will not feel guilty if you indulge in more chocolate, whipped cream or honey served as toppings.
---
These pancakes were a part of a macronutrient balanced diet where practically I was allowed to take this even everyday if I wanted to! I used to eat these with 3 tbsp Greek Yoghurt and loved them! However, for Valentine you can sprinkle them with Nutella and strawberries, a sprinkle of caster sugar, jam or honey.
Tip: As with other non-flour healthier pancakes I suggest to strictly use a non-sticky pancake pan and you won't find any problems!
---
These are the pancakes I'm finally suggesting if you want a savory Valentine's day pancake! Serve it with halloumi, bacon or even alone if you prefer! If you never went to a Perkins restaurant I really suggest to try them out!
---