Prep Time: 10 mins Cook Time: 30 mins
Total Time: 40 mins. Yields: 4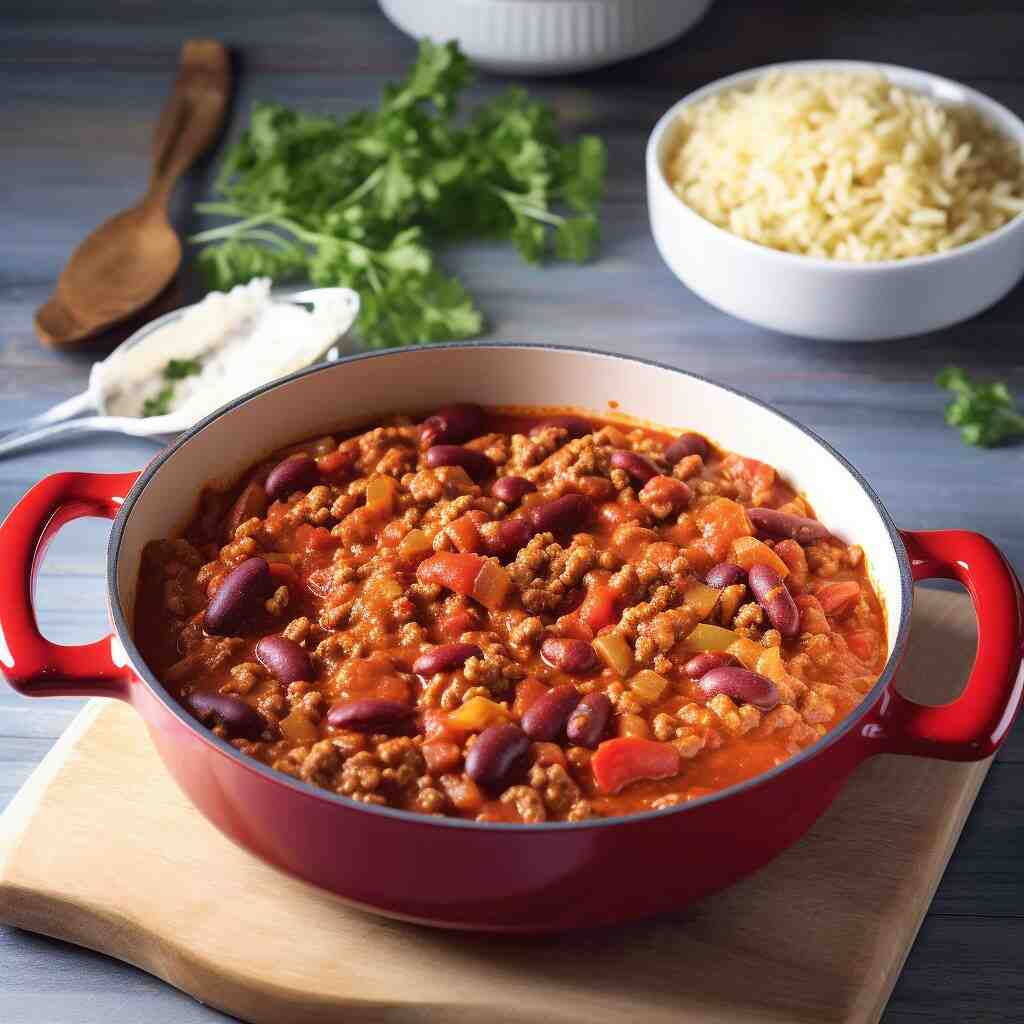 It's easy to pull together this Quorn Chilli con Carne recipe – it's a vegetarian, healthy satisfying meal packed with flavour! Whether you're a vegetarian or simply looking to switch up your dinner routine, Quorn Chilli con Carne is a must-try dish that will leave you wanting more.
RELATED:
---
Why you'll love it
Vegetarian Chilli con Carne – A satisfying vegetarian alternative to the classic Chilli con Carne. Quorn mince is also a great way to incorporate more plant-based meals into your diet without sacrificing taste or satisfaction.
Healthy protein – Quorn mince is a great source of protein and is low in saturated fat. This Quorn chilli recipe has 28g of protein per portion and is a perfect recipe if you're on a weight loss or low-fat diet.
Spices – 1/2 teaspoon of cumin and white pepper and 1 teaspoon each of cayenne pepper and sweet paprika. The combination of spices adds a flavorful kick to the dish.
Versatile – a versatile recipe that can be served with various sides like baked sweet potato, rice, taco or tortilla chips. Topping options like guacamole, sour cream, grated cheddar, and chopped spring onions add extra layers of flavour and texture.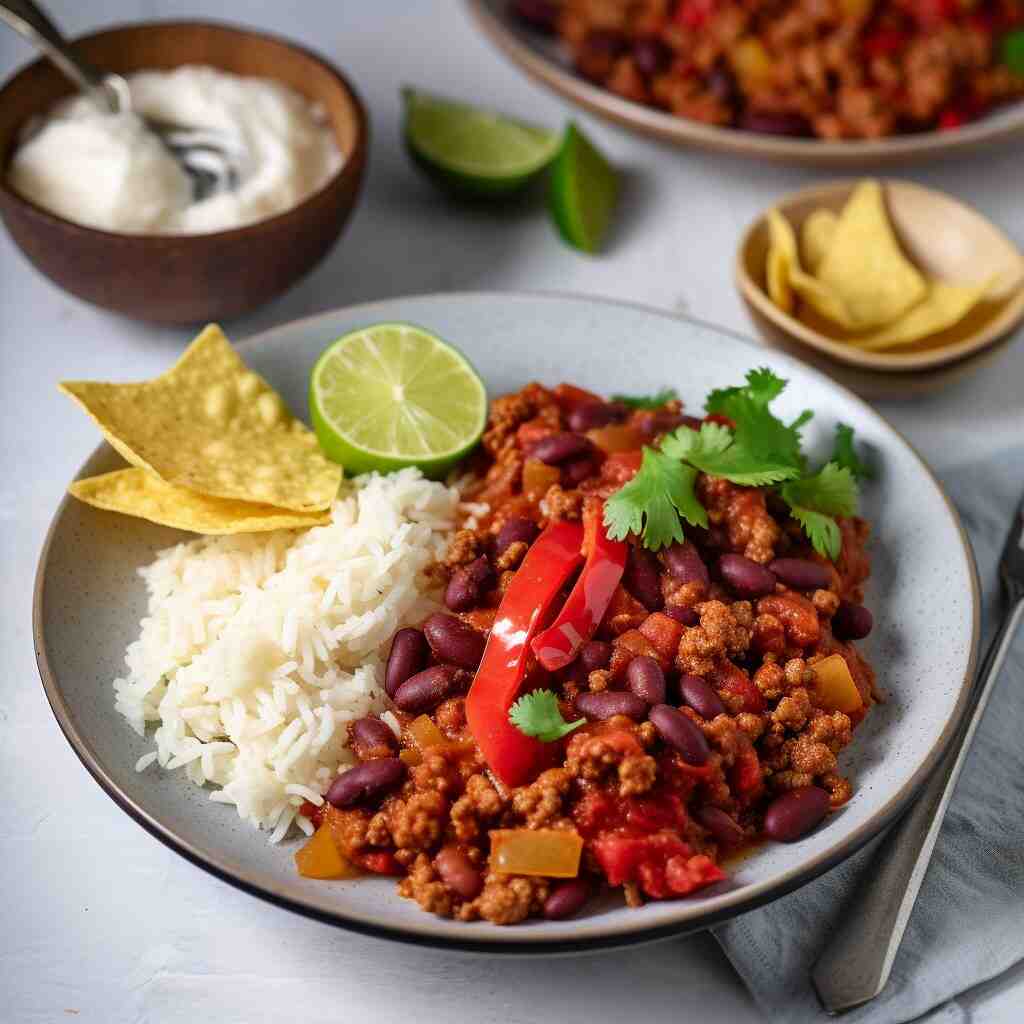 Quorn Chilli con Carne Recipe
What is Quorn Chilli con Carne?
Quorn Chilli con Carne is a vegetarian version of the traditional Chilli con Carne dish. Instead of using ground beef, this recipe calls for Quorn mince, which is made from a protein-rich fungus.
The Quorn mince is combined with red kidney beans, onions, red pepper, garlic, and a variety of spices to create a flavorful and satisfying meal. The tomato puree adds a rich and tangy element, while the spices like cayenne pepper, sweet paprika, cumin, and white pepper give the dish a delicious kick. This recipe is perfect for those who are looking to reduce their meat consumption or simply want to try something new and exciting in the kitchen.
​Ingredients
Here are the ingredients for 4 portions:
Quorn. 300 grams (a bag) Quorn mince that can be cooked from frozen!
Onion – 1 red onion, finely chopped
Garlic – 1 clove garlic, peeled and minced.
Red Pepper – Deseeded and sliced into thin strips.
Spices – The spices in this recipe make a mild chilli that all the family can enjoy. I love to use Cayenne pepper, sweet paprika, and white pepper. Add cayenne pepper if you want it hotter.
Kidney beans – 500 grams of red kidney beans. Always keep these handy in the pantry as they're really great addition to most stews, soups, and salads.
Olive Oil – Used for frying the veggies
Tomato puree – 1/2 cup (125 ml) tomato puree. Choose a very good puree or any canned tomatoes if you can't do your own. Organic is always the best choice. Definitely don't choose the cheapest watery and acidic canned tomatoes since here tomatoes play a fundamental role in the dish's taste.
How to make Quorn Chilli con Carne
Fry onions, red pepper and garlic. Stirfry the onions, red pepper, and garlic in olive oil for 5 minutes until softened. 
Prepare the sauce. Next, add the Quorn mince, kidney beans, and tomato puree together with all the spices for 5 minutes.
Simmer. Add the water, stirring thoroughly. Simmer for at least 10 minutes but leave for 20 minutes more if you have more time.
Optionally you can now transfer all the mixture to the slow cooker and cook for 4–6 hours.
Stir your chilli gently. Serve the chilli with tacos, on sweet potato, with nachos, or as a dip if you prefer.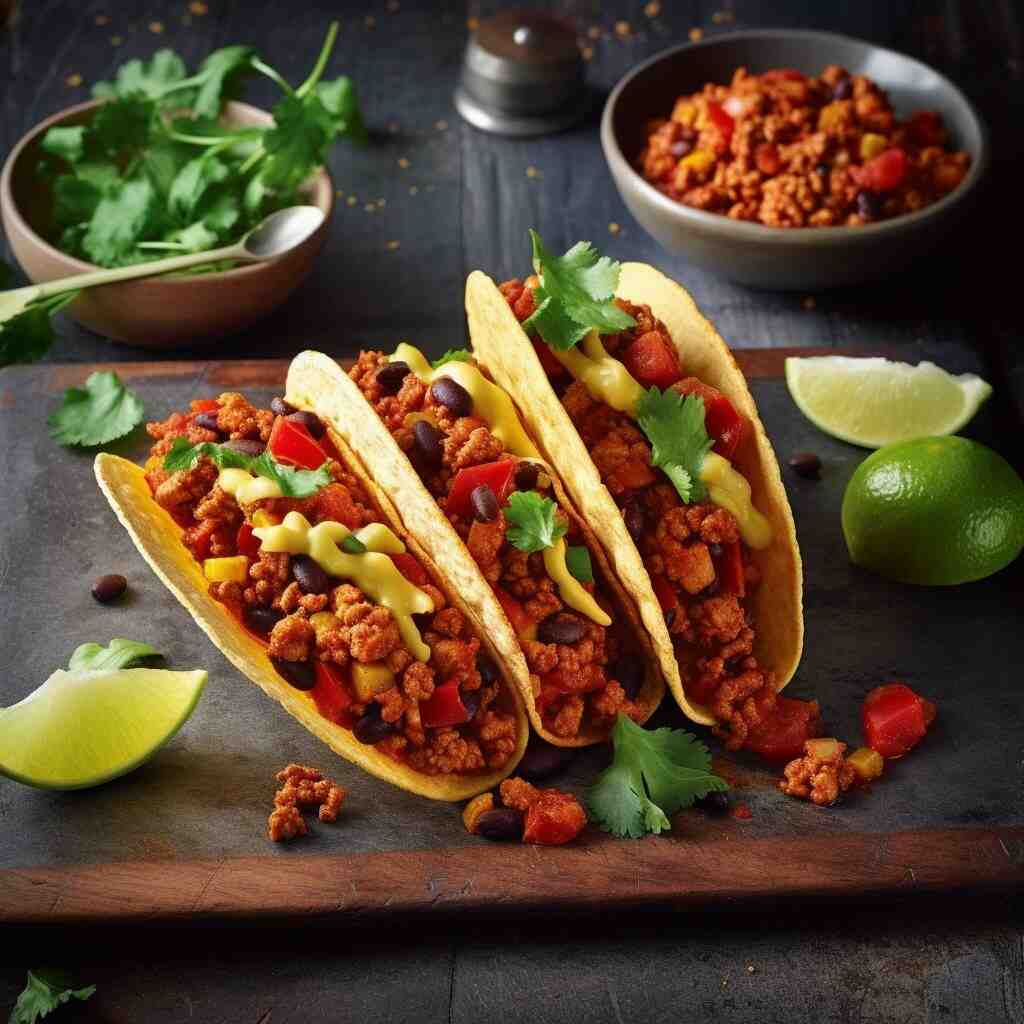 Tips
Chop the veggies. Make sure to finely chop the red onion and dice the red pepper for even cooking.
Mix and adjust the spices. I like to mix all the spices in a small glass so that when I am cooking I do not have to meddle with the various spice bottles. Adjust the amount of spices according to your taste preferences. If you like it spicier, add more cayenne pepper or paprika.
Use a non-stick pan or skillet. Using the right pan will help you fry the onions, red pepper, and garlic without sticking. It is very important to let the onion soften well without burning it or letting it stick to the pan because it will give the chilli an unwanted smoky taste.
Keep Quorn mince & tacos in the freezer. Always keep a packet of frozen Quorn mince in the freezer and tacos so you're never too far away from delicious meals like this. The nicest thing about this recipe is that you can use the Quorn mince straight from the freezer.
For slow cooking. Follow all steps and then transfer the whole mixture for 4-6 hours before serving. Simmering the mixture on low heat to allow the flavours to meld together. However, you should add a cup of extra water or tomato puree.
Variations
Smoother quorn chilli. I love to use it as a dip with nachos and is an excellent trick for hiding vegetables for kids and fussy eaters.
Saucier consistency. Add more tomato puree if you like a more saucy texture.
Spicier. Use double the amount of cayenne pepper.
Extra protein. Add another tin of kidney beans or Greek yoghurt for extra protein.
Packed with veggies. Add more vegetables such as baby corn, an extra pepper, or tomatoes.
Meat recipe. Swap the Quorn mince for beef mince for a richer more meaty chilli.
Vegan. Swap the Quorn mince with a vegan alternative.
How to serve the Quorn chilli con carne
Baked sweet potato. For a healthy and filling meal I love to use this chilli to fill baked sweet potato with a sprinkle of spring onions and a side of homemade guacamole for a hearty healthy weekday meal.
Rice. Enjoy it over a bed of rice for a classic combination.
Quorn tacos for a weekend or Mexican twist. Use it as a filling for tacos or serve it with tortilla chips for a fun and flavorful twist.
Quorn nachos. Serve the chilli as a dip with nachos and top with sour cream and grated cheese.
Add toppings. Top the chilli with guacamole, sour cream, grated cheddar, and/or a sprinkle of chopped spring onions for added creaminess and freshness.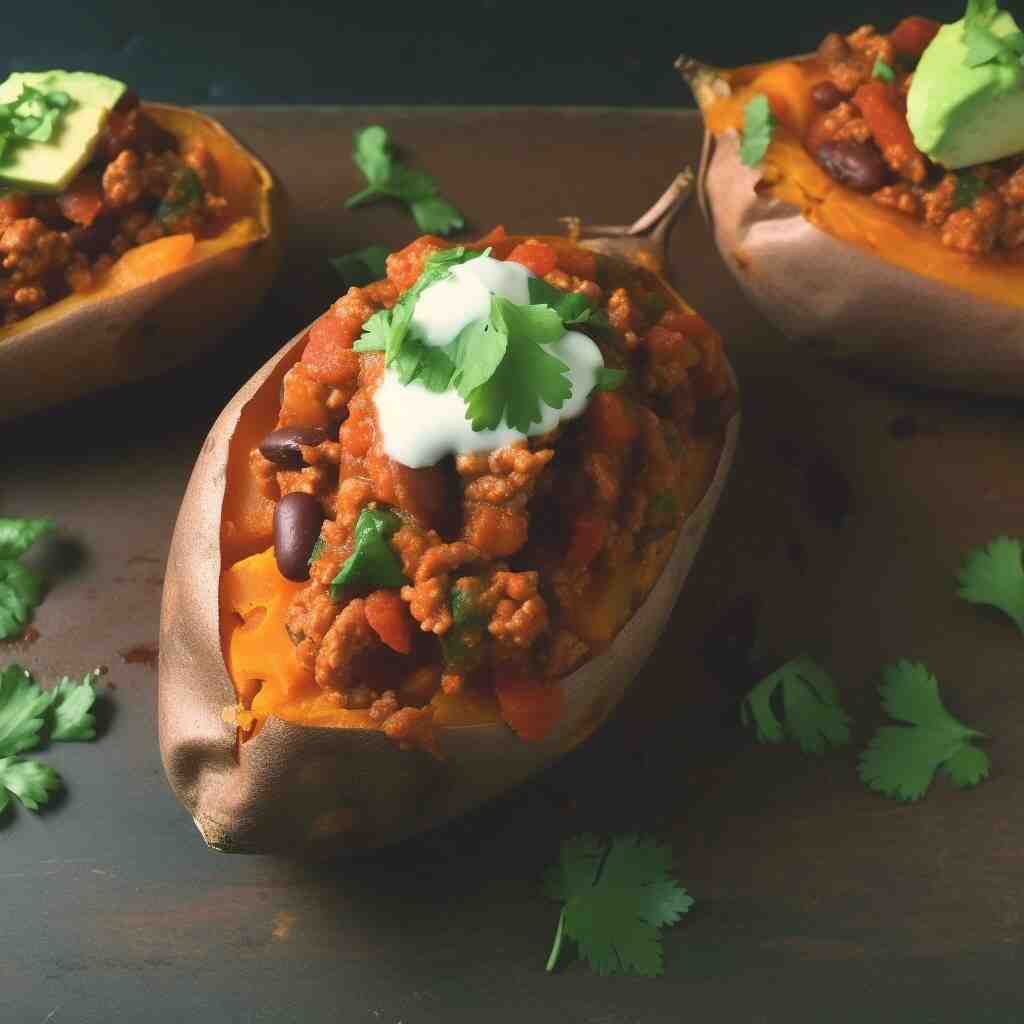 Storage Instructions
If you have any leftovers, store them in an airtight container in the refrigerator for up to 3 days. Reheat the Quorn Chilli con Carne on the stovetop or in the microwave until heated through before serving.
FAQs
What is Quorn?
Quorn is a brand that uses a meat substitute called mycoprotein. This is a naturally sourced meat-free protein derived from a natural fungus that is high in fiber, soy-free, and non-GMO.
Is Quorn mince healthier than beef mince?
Quorn mince is lower in fat than beef mince so is a great choice if you are following a low-fat diet. However, lentils that are frequently used in vegan chillis and stews have less fat while also containing more iron.
How is Quorn mince compared to other meat-derived mince?
Quorn mince has a great meat-like texture that is perfect for cooking each of your favorite minced meat recipes. It tastes delicious on its own but it's terrific adding some spices to it.
How long can you keep Quorn chilli in the fridge?
The Quorn chilli can be kept in the fridge for up to 3 days.
Can you cook Quorn mince straight from frozen?
Yes, there is no need to defrost the Quorn mince first.
Is Quorn mince vegan?
Quorn mince is vegetarian but not vegan. The brand has other products which are vegan like burgers. If you mash these burgers into mince they can be used as a Quorn mince alternative.
Is Quorn mince gluten-free?
Quorn is a perfect gluten-free alternative that unlike lentils has a similar texture to meat.
You might like more…
MORE MEXICAN DINNERS:
MORE VEGETARIAN AND QUORN RECIPES:
Print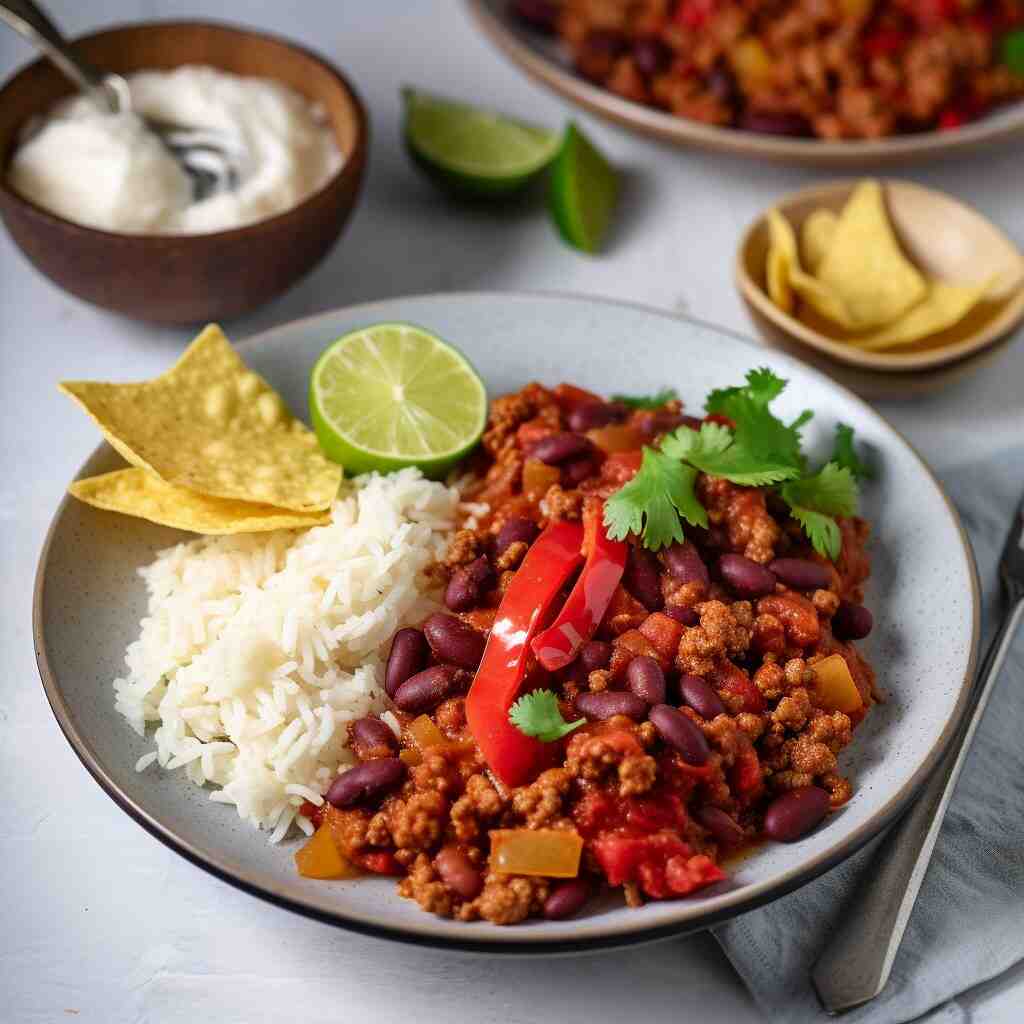 Quorn Chilli Recipe
---
Description
The Chilli con Carne with Quorn recipe is a healthier vegan version of chilli con carne. Personally, I think this recipe using Quorn is even better than the original one using beef. The Quorn together with the kidney beans, red pepper, onion, and the spices blend perfectly well making this a perfect fulfilling meal for all the family.
---
1

red onion, finely chopped

1

red pepper, diced

1

clove garlic, minced

2 tsp

olive oil

300

g

quorn, minced

500

g

red kidney beans, drained

1/2

cup

tomato puree

1 tsp

cayenne pepper

1 tsp

sweet paprika

1/2 tsp

cumin

1/2 tsp

white pepper
---
Instructions
Fry the onions, red pepper and garlic in olive oil for 5 minutes until softened.
Add the Quorn mince and kidney beans together with all the spices and tomato puree' on low heat for 5 minutes.
Add the water, stirring thoroughly. Simmer for 10 minutes.
Serve immediately with baked sweet potato, rice, taco or tortilla chips. Top the chilli with guacamole, sour cream, grated cheddar and/or a sprinkle of chopped spring onions
Notes
To use baked sweet potatoes as a side dish

, bake in a preheated oven at 180°C for 40 minutes. Alternatively, if you're in a hurry you can microwave a 900KW for 8 minutes. Then cut in half each baked potato and slice each top lengthways. Fill with a generous amount of chili mixture; top each with 2 tbsp guacamole or sour sauce.
Prep Time:

5 minutes

Cook Time:

15 minutes

Category:

Main Course

Method:

Frying

Cuisine:

Mexican, Vegetarian
Nutrition
Serving Size:

4

Calories:

556.84 calories

Sugar:

6.45 grams

Sodium:

476.66 milligrams

Fat:

7.83 grams

Saturated Fat:

1.41 grams

Unsaturated Fat:

3.06 grams

Trans Fat:

0 grams

Carbohydrates:

89.84 grams

Fiber:

24.11 grams

Protein:

40.33 grams

Cholesterol:

8.69 milligrams
Keywords: chilli con carne, gluten free, guacamole, kidney beans, quorn, quorn mince, sweet potato, tacos, vegetarian mince