Affogato Shot is the magic that happens when two Italian pleasures meet in one glass (hot espresso and cold vanilla ice cream)
A classic dessert with the cold vanilla ice cream starts melting and mixing with the coffee making the coffee slowly become like a creamy latte. The term "affogato al caffe" literally means drowned in coffee shots!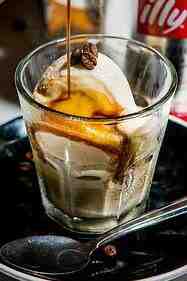 Yields: 2 portion
Prep Time: 10 mins Cook Time: 0 mins Total: 10 mins
---
Affogato al Caffe – a perfect cool summer recipe
Italian cuisine has various coffee-based desserts. This coffee affogato for me has now become a great substitute for the tiramisu recipe. It's a big winner in summer barbeques and you can easily swap the coffee with hot chocolate for kids.
What is an Affogato?
It's the simplest and most decadent dessert in Summer! The classic version uses Vanilla Ice Cream but you can create an Affogato using ice cream as a base topped with coffee shots on top.
The equation is simply ICE CREAM BASE + COFFEE SHOTS = AFFOGATO – but as a rule, I would avoid using coffee flavored ice-cream.
Affogato Shots: the classic recipe
It's an old classic recipe that passed the test of time and is still one of the favorite summer dinner desserts not only in Italy but even Worldwide.
Ingredients
Ice-cream. Vanilla or any other flavor excluding Coffee Flavored Ice Cream
Espresso Shot. An espresso shot with a coffee machine or using a mocha called "caffettiera" in Italy.
Affogato al Caffe Step by Step
STEP 1 – PREPARE THE CUPS WITH ICE CREAM
Fill the cups with the ice-cream cups. Usually, I use from 1 to 2 scoops.
STEP 2 – PREPARE THE COFFEE
Prepare the espresso using an espresso machine or a mocha
STEP 3 – DROWN THE ICE CREAM WITH COFFEE
Pour the espresso onto the ice cream.
STEP 4 – VANILLA SWEET CREAM COLD BREW DIRECTIONS
Serve immediately the Affogato so that you can still taste the ice-cream while it's still not completely drowned in the coffee.
You might also like…
Homemade Taro Bubble Tea Milkshake (Boba Milkshake)
Turmeric Latte: Know The Truth And Magic Of 'Golden Milk'
How to Roast Coffee Beans at Home for Exquisite Coffee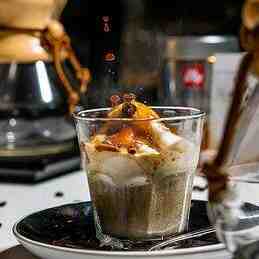 Affogato Shot Recipe (Affogato Coffee)
Ingredients  
125

mL

espresso

4 expresso shots

125

mL

vanilla ice cream

4 scoops
Instructions 
Place the vanilla ice cream scoops in cups (1-2 scoops per person) a

Prepare the coffee using an espresso machino or a mocha

Pour the hot espresso onto the ice cream.