Affogato Shot is the magic that happens when two Italian pleasures meet in one glass (hot espresso and cold vanilla ice cream)
A classic dessert with cold vanilla ice cream starts melting and mixing with the coffee making the coffee slowly become like a creamy latte. The term "affogato al caffe" literally means drowned in coffee shots!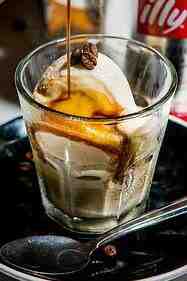 Yields: 2 portion
Prep Time: 10 mins Cook Time: 0 mins Total: 10 mins
---
Affogato al Caffe – a perfect cool summer recipe
Italian cuisine has various coffee-based desserts. This coffee affogato for me has now become a great substitute for the tiramisu recipe. It's a big winner in summer barbeques and you can easily swap the coffee with hot chocolate for kids.
What is an Affogato?
It's the simplest and most decadent dessert in Summer! The classic version uses Vanilla Ice Cream but you can create an Affogato using ice cream as a base topped with coffee shots on top.
The equation is simply ICE CREAM BASE + COFFEE SHOTS = AFFOGATO – but as a rule, I would avoid using coffee flavored ice cream.
Affogato Shots: the classic recipe
It's an old classic recipe that passed the test of time and is still one of the favorite summer dinner desserts not only in Italy but even Worldwide.
Ingredients
Ice-cream. Vanilla or any other flavor excluding Coffee Flavored Ice Cream
Espresso Shot. An espresso shot with a coffee machine or using a mocha called "caffettiera" in Italy.
How to prepare Affogato al Caffe
Fill the cups with the ice cream. Usually, I use from 1 to 2 scoops.
Prepare the espresso using an espresso machine or a mocha
Pour the espresso onto the ice cream drowning it.
Serve immediately the Affogato so that you can still taste the ice cream while it's still not completely drowned in the coffee.
Tips & Variations
You can easily add variations to enhance the flavors of this delightful dessert. Here are some tips and variations for making affogato:
Biscoff Affogato: Drizzle Biscoff sauce (such as Lotus Biscoff spread or caramelized Biscoff cookie spread) over the ice cream and espresso. Sprinkle crushed Biscoff biscuits on top for added crunch and flavor. Serve and savor the combination of Biscoff's caramelized taste with creamy ice cream and espresso.
Nutty Affogato: Sprinkle chopped nuts such as almonds, hazelnuts, or pistachios over the top. Optionally, you can drizzle some chocolate sauce for an extra indulgent touch. Enjoy the nutty flavors along with the coffee and ice cream.
Spiced Affogato: Infuse your affogato with warm spices for a comforting twist. Brew your espresso with a pinch of ground cinnamon, nutmeg, or cardamom. Prepare the affogato as usual, pouring the spiced espresso over vanilla ice cream and optionally garnishing with a dusting of cocoa powder or a cinnamon stick for an appealing presentation.
Liqueur Affogato: Pour a small amount of liqueur-like amaretto, Limoncello, Baileys, Kahlua, or Frangelico over the ice cream and coffee. Be cautious with the amount of liqueur, as it can overpower the flavors if used excessively.
Remember, affogato is a versatile dessert, and you can experiment with various flavors and ingredients based on your preferences. Whether you're craving a classic version or looking to add a creative twist, affogato is a delightful treat to enjoy any time of the year.
How to serve Affogato al Caffe?
When it comes to pairing affogato with other elements, there are a few options to consider. Here are some ideas to enhance the experience of serving affogato:
Biscotti or Cookies: Serve affogato with a side of biscotti, amaretti cookies, or any crunchy cookie of your choice. These can be dipped into the affogato or enjoyed separately, providing a delightful contrast in texture.
Liqueurs: Accompany the affogato with small glasses of complementary liqueurs such as amaretto, Frangelico, Kahlua, or Baileys. Guests can sip on the liqueur alongside the affogato or pour a small amount into the dessert to further enhance the flavors.
Fresh Berries or Fruits: Add a pop of freshness and color to your affogato by serving it with a side of fresh berries like raspberries, strawberries, or sliced fruits such as mango or banana. These fruits can provide a refreshing and tangy element to balance the sweetness of the dessert.
Dessert Wafers or Chocolate: Place a wafer or a piece of chocolate on top of the affogato or serve it alongside. The wafer can add a delicate texture while the chocolate can bring an extra layer of richness to the dessert.
Liqueur-Infused Whipped Cream: Prepare a flavored whipped cream by adding a dash of liqueur, such as amaretto or Baileys, to the cream before whipping it. Serve a dollop of this whipped cream on top of the affogato, creating a luxurious and boozy addition.
As for when to serve affogato, it is a versatile dessert that can be enjoyed as a dessert, afternoon treat, summer refreshment, or dinner party. Remember to serve the affogato immediately after preparing it, while the espresso is still hot and the ice cream is cold. Encourage your guests to indulge right away to experience the contrasting temperatures and flavors at their best.
You might also like…
Other Summer refreshing recipes:
Print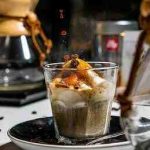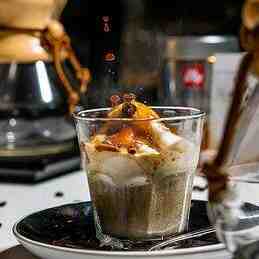 Affogato Shot Recipe (Affogato Coffee)
---
125

ml

espresso (4 expresso shots)

125

ml

vanilla ice cream (4 scoops)
---
Instructions
Place the vanilla ice cream scoops in cups (1-2 scoops per person) a
Prepare the coffee using an espresso machino or a mocha
Pour the hot espresso onto the ice cream.
Serve immediately.
Prep Time:

10 minutes

Cook Time:

30 seconds

Category:

Dessert

Method:

Brewing

Cuisine:

Italian
Keywords: affogato al caffe, affogato coffee, affogato shot, affogatos, ice cream affogato
Recipe Card powered by