Where to find a vegetable-focused Summer feast, colorful breakfast bowls, jerk salmon, and more.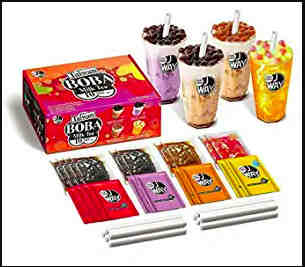 ---
Although initially an Asian drink, bubble tea grew worldwide in popularity and is now one of the most famous drinks among kids and adults. This creamy drink composed of base tea, milk, sweetener, and the renowned boba tea is a sought-after beverage, especially on a hot summer day. However, while making bubble tea from scratch is a fun activity, it requires time and energy.
If you want to fulfill that "do-it-yourself" way of enjoying your bubble tea drink, there are kits available on Amazon that you can order and assemble within a minute! This article features the brands J-way, J-Basket, Locca, Bobaholic, FortuneHouse, Fusion Select, Boba Fide, and Yumbucha as the best bubble tea kits you can order. 
We will discuss each of these brands' features, pros, and cons to help you find the best DIY bubble tea brand for you.
And if like me you don't have any bubble tea shops in the vicinity, you can rely on these tea kits to enjoy their sweet drinks at the luxury of your home. So we can say besides learning to be home-baristas, we can also welcome the new era of home boba tea aficionados. 
---

30 Piece Set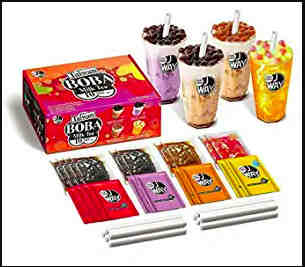 The J WAY Instant Boba Bubble Pearl Milk Tea Kit has quite an impressive variety of ready-made boba pearls which give a different flavor to your tea. As per instructions you you can serve after a few seconds of heating in the microwave also thanks to the milk tea packets provided in the box and also disposable paper straws. Since this kit offers already cooked boba pearls, assembling a bubble tea is really fast and can be done in under one minute.
Additionally, the milk tea packets come also in different flavors and include:
classic milk tea with brown sugar,
creme brulee with caramel boba,
passionfruit pineapple green tea.
A little downside to this kit is its price and so you should take in account if delivering a ready made boba tea to your house would still come cheaper than "brewing" one at home yourself.  Nevertheless, I suggest to try the experience of assembling a boba drink at least once and this is certainly great for a first time boba makers.
---

3 Piece Set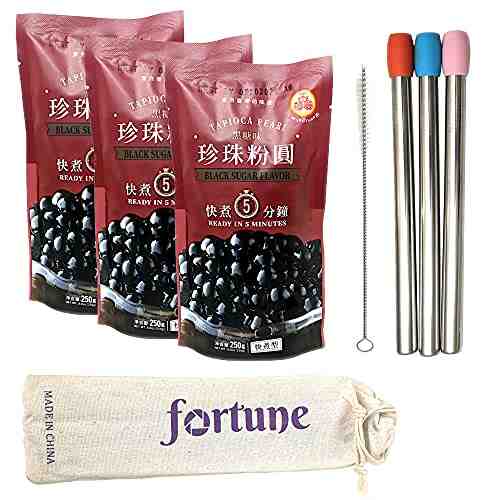 This DIY set from FortuneHouse is really a great choice if you're after a boba pearls that pairs well with any bubble tea. This product contains standard tapioca boba pearls, stainless steel boba straws, silicone tips for the straw, a cleaning brush, and a canvas bag. It's really a nice gift you can give yourself if you're a bubble tea fan.
According to the packaging, it takes only 5 minutes to serve these boba pearls but many reviewers said that it takes another 5-10 minutes of boiling to get them chewier depending on how you like them.
Perhaps the only disadvantage that I can think of is having only one bubble tea milk flavour but I still think this is one of the best bubble tea kits especially if you've already prepared some bubble tea before.
---

40 Piece Set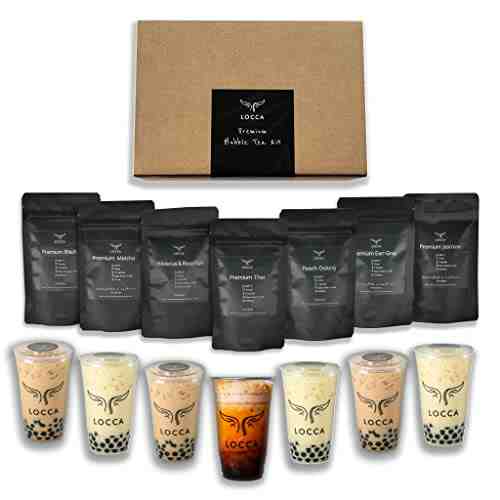 The Ultimate Locca Premium Boba Tea Kit is your option if you want a premium-tasting bubble tea. If you're picky on your bubble tea, this one compares to the ones you get from a bubble tea shop. This kit contains 7 unique flavors:
Jasmine tea,
Black tea, Organic Peach Oolong tea,
Organic Hibiscus Rosehips Tea,
Organic Earl Grey Lavender Tea,
Organic Matcha, and
Thai. 
The kit also comes with 40 pieces of plastic straws and two bags of 14-oz uncooked boba pearls. Cooking time, just like for any uncooked boba pearls depends on your desired chewiness.
The tea flavors that come with this kit do not contain powdered milk and so you also have complete control over your milk. So in conclusion this is the right choice if you're an expert in Bubble Tea's and/or you want it vegan and gluten-free.
---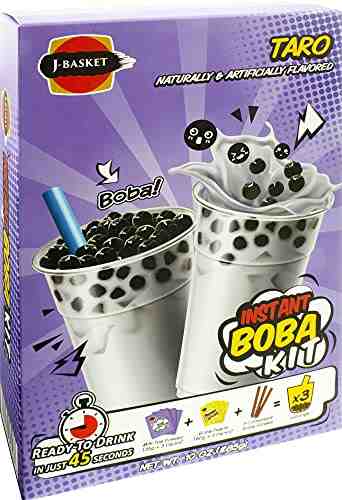 The J-Basket Taro Tea Boba Kit comes with cooked boba pearls, taro milk tea powder, and straws to serve your boba tea in less than 1 minute. A pack of this kit makes 3 servings of taro milk shake. Then, just like the already cooked ones, you simply need to microwave them and assemble. 
Perhaps this kit is a little expensive as you'll get 3 servings for around $20 which is probably more than buying the real deal from a store.