Bubble Tea is a fresh and tasty drink enriched with sweet and chewy balls, tapioca pearls. The original Bubble Tea recipe is based on different varieties of tea and milk , but it can be made even tastier by adding fruit juices and syrups .
This glamorous drink, also called boba or bubble tea, was conceived in Taiwan in the 1980s and today it is widespread with bubble shop popping all over around the globe. The preparation is enriched with nice gummy tapioca pearls which burst in the mouth releasing juices of various flavors or fruit jelly like my favourite homemade strawberry boba pearls.
In short, a nice drink to drink at home or offer at a special party … Let's see how it is prepared …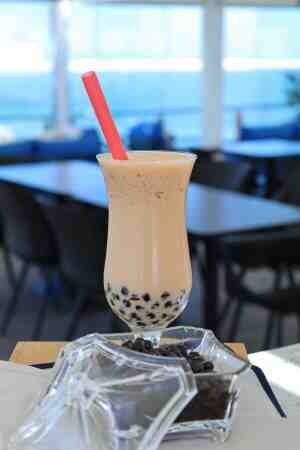 What is the Bubble Tea recipe?
There are many possible variations and they allow you to create drinks that are not only good but also fun and delicious. Here is the recipe for the Bubble Tea that we offer, based on tea, milk and tapioca pearls.
What are the tapioca pearls made of?
They're made of chewy tapioca pearls ( boba ) that are usually black in color from the addition of brown sugar . The balls called popping boba can be prepared with blends of different teas, with ice cream or fruit, with fruit juices or syrups. They are a very common type of garnish, generally found with a mango flavour , lychee , strawberry , green apple , passion fruit , pomegranate , orange , cantaloupe , blueberry , coffee , chocolate , yoghurt , kiwi , peach , banana , lime , cherry , pineapple . In short, you are spoiled for choice!
Bubble Milk Tea Recipe
Hydrate 40g of popping boba by placing them in cold water for about an hour.
Rinse the pearls and cook them for 10 minutes in 500ml of water.
Let the pearls cool and put them in the hot tea.
Add some milk.
According to your preferences, you can add sugar or ice if you prefer it cold.
Happy Bubble Tea everyone!