How to roast coffee beans at home? Roasting is what gives coffee beans their flavor. The color, the smell, the taste – everything would smell different without roasting even the finest coffee beans. And if you're a coffee lover I suggest you try to make your own coffee from scratch. It's an amazing process – a small miracle for our palate.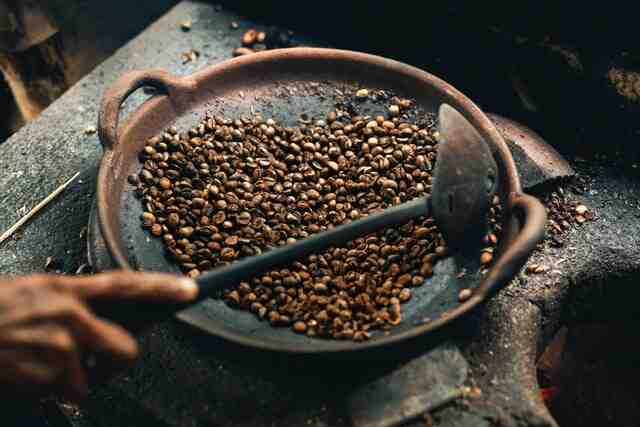 Prep Time: 5 mins Cook Time: 25 mins Total: 30 mins
---
Coffee roasted levels
Green beans at room temperature look pale green (South American bean), darker green (Indonesian bean), brown for African beans, and brown with hints of green for water-processed decaf beans.
There are 8 different stages when roasting coffee beans:
Obtaining a roast level of coffee might prove to be a littly tricky especially if you've never roasted coffee beans before. No matter how many details and tips you'll read here, trial and error are what works best in the end. So don't be afraid to try especially if you love both medium and darker roasts as one way or another you will be satisfied with your coffee!
1. Cinnamon Roast 385°F, 196 °C
This is the very first point in which you can say that coffee becomes "drinkable". However, the coffee will taste rather grassy but still smells and look like coffee. This is not commonly used neither at home nor commercially.
You'll get a Cinnamon Roast at around 385°F at the very beginning of the "first crack".
2. Half City Roast (Light Roast) – 400°F, 205°C
This light roast is also called New England Roast. It is obtained in the middle of getting the first crack upon reaching an internal temperature of 400°F. At this stage, the coffee is much more "drinkable" with the coffee actually smelling like coffee and tasting slightly fruity with floral flavor notes. This roast is often used for a coffee-tasting technique called coffee cupping. With this technique and coffee roast, one can understand the coffee origin and check the difference between two coffees.
Color: Light brown
Oil On Surface: No
Taste: Toasted grain with pronounced acidity
Amount Of Caffeine: High
Internal Beans' Temperature: Approximate 400°F
3. City + Roast (Light-Medium) 405°F – 410°F, 207°C – 210°C
This light to medium roast is obtained at the end of the first crack. There's no oil on the beans just yet and you can still taste the individual characteristics and origin of the coffee – very little taste of the roast.
This roast is commonly used for tasting and comparing coffee of the same region but from different estates. If there's any acidity in the coffee then it can be recognized at this stage where acidity is well accentuated. The coffee would also start acquiring more body in the cup.
4. Full City Roast (Full Medium) 410 °F – 430 °F, 210 °C – 221 °C
We're now at Full Medium Roast. Basically, we have reached the "first crack" and are roasted before the second crack occurs at around 430°F. The beans can have no oil or a few flecks of oil.
The coffee with a medium roast has a smoother more balanced flavor than a light roast.
Color: Brown
Oil On Surface: None to few flecks of oil
Taste: Balanced flavor, aroma, and acidity
Amount Of Caffeine: Medium
Internal Beans' Temperature: Approximate 420°F
5. Full City + (Medium-Dark) ~425°F – 435 °F, 218 °C – 224 °C
This occurs during the 2nd crack. Basically, it's past the Full City but cannot be called a Vienna Roast yet. Just like the Full Medium, the beans can have some flecks of oil and a balance between the original flavour and the roast. This roast is also associated with a little more body and less acidity than a Full City Roast.
6. Vienna Roast (Dark) 430 °F – 440 °F, 221 °C – 227 °C
In this phase, the beans reach an internal temperature of 430°F – 440°F happening during the second crack. The temperature here is high enough to have oil showing on the beans' surface. More smoke will appear and now the taste will have more flavor of the roast than of the original flavor. The aroma here is richer and full of body and flavor. They are also characterized by less acidity.
Color: Dark Brown
Oil On Surface: Some
Taste: Heavy, full-body flavor with a small taste of spice
Amount Of Caffeine: Low
Internal Beans' Temperature: Approximate 440°F
7. French Roast (Dark Roast) 440 °F – 455 °F, 227 °C – 235 °C
These roast here goes to the end of the second crack until they reach an internal temperature of 455°F. At this point the beans are covered in oil and the roast will be covered with smoke. The color of the beans will start turning from brown to greyish black. Practically the coffee here will have none of the original flavor here and with the taste of roast being predominant. Any coffee turned to French Roast tastes practically the same with an undertone of burnt taste and now the coffee will be thinner, with very little acidity left.
Color: Black
Oil On Surface: Yes
Taste: Bitter, smoky, or burnt taste
Amount Of Caffeine: Very Low
Internal Beans' Temperature: Approximate 475°F
8. Italian / Spanish Roast – Over 455 °F, 235 °C
Practically this is like a charcoal roast. Surprisingly it might still taste better than store-bought coffees.
Print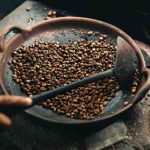 How To Roast Coffee Beans
---
Total Time:

30 minutes

Yield:

1

bag

1

x
1

bag Green Coffee Beans (unroasted)
---
Instructions
In a ventilated place, place your skillet on the stove/burner turning it on to reach 350 F. Use the laser thermometer to check the temperature of the skillet.
Pour some green beans into the skillet, making sure that the skillet isn't loaded more than necessary and finally obtain an even roast. Recheck the temperature and you'll find that you need to add some more heat to get back to 350F after a slight drop in temperature.
Once you pour the beans into the skillet you must begin whisking without stopping or otherwise the roast won't be even.
First expect the beans to get slightly yellowed.
As you continue to whisk the coffee beans will change color and you'll notice some smoke.
Continue roasting your beans and whisking until you hear the first beans cracking. Congratulatations, this is the FIRST CRACK and you have a light roast.
Now it's up to you to decide at which point you'll continue to roast. I suggest to avoid taking it all the way to the SECOND CRACK or you risk having to throw away most of the burned beans unless you really want an Italian/Spanish roast.
When you are happy with the level of your roast and hence the color and oil of the beans, remove the skillet from the heat. Then gently place your beans in a bowl.
Now, it's important to drop the beans from a height so that the chaff is lost in the air. You can do this by dropping the beans from the bowl into a sieve placed 20-30 cm below.
Now the beans are ready to grind. Store in an airtight container.
Prep Time:

5 minutes

Cook Time:

20 minutes

Category:

Coffee

Cuisine:

American, British, Italian, South American
Recipe Card powered by