Prep Time: 15 mins Cook Time: 25 mins
Total: 40 mins Yields: 8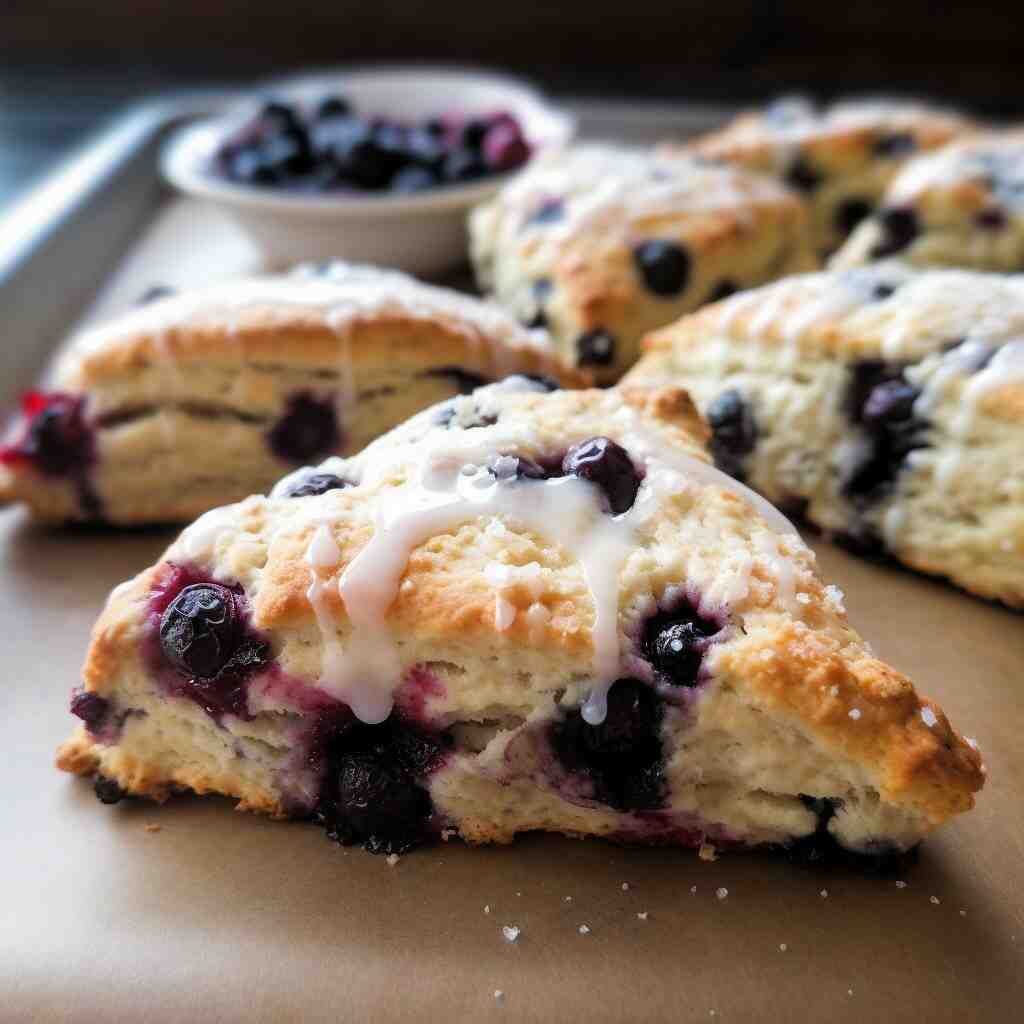 Welcome to a delightful journey of flavors with Lemon Glazed Blueberry Scones, inspired by the culinary prowess of Ina Garten. These muffins are a delightful fusion of zesty lemons, plump blueberries, and a sweet, tangy glaze that elevates breakfast or tea time to a whole new level.
RELATED:
---
What are the Blueberry Scones by Ina Garten?
Lemon Glazed Blueberry Scones by Ina Garten is a divine treat inspired by Ina Garten's Orange and Cranberry. Imagine tender, buttery scones studded with juicy blueberries, and then generously coated in a luscious lemon glaze. They're perfect for brightening up your mornings, impressing brunch guests, or satisfying your sweet cravings.
Why you'll love it?
Balanced Flavors: These scones marry the sweet allure of blueberries with the zesty punch of lemon, creating a harmonious flavor profile that's simply irresistible.
Melt-in-Your-Mouth Texture: Thanks to cold butter and heavy cream, these scones achieve a tender, melt-in-your-mouth quality that's pure bliss.
A Touch of Citrusy Elegance: The lemon glaze not only adds a burst of citrusy freshness but also lends an elegant finish to these scones, making them suitable for both casual gatherings and special occasions.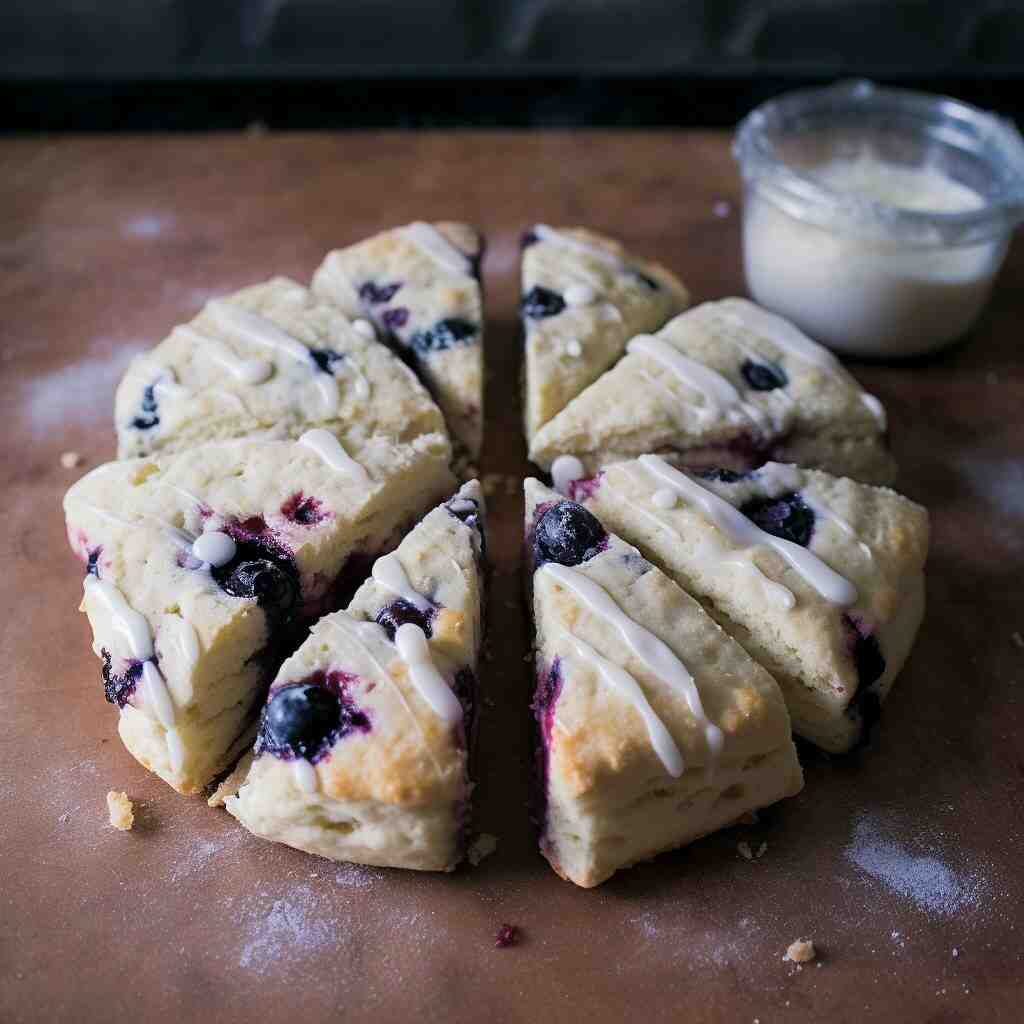 Blueberry Scones Ina Garten
Ingredients
All-Purpose Flour – 2 cups all-purpose flour
Sugar – 1/2 cup sugar
Baking Powder – 1 tablespoon baking powder
Salt – 1 teaspoon kosher salt
Unsalted Butter – 1/2 cup unsalted butter
Egg – 1 Large Egg, lightly beaten
Heavy Cream – 1/2 cup cold heavy cream
Blueberries, – 1 cup fresh or frozen blueberries
Extra Heavy Cream for brushing the tops
Raw Sugar for sprinkling the tops
Lemon Glaze:
Unsalted Butter – 2 tablespoons unsalted butter
Powdered Sugar – 2 cups powdered sugar, sifted
Lemons – juice and zest of 2 lemons
Tips
Handle the dough gently to maintain the scones' delicate texture.
If using frozen blueberries, fold them into the dough directly from the freezer to prevent them from bleeding color into the dough.
Brushing the scones with heavy cream before baking gives them a beautiful golden hue.
Don't forget the raw sugar sprinkle; it adds a delightful crunch to the scone tops.
Variations
Swap blueberries for raspberries, blackberries, or even a mix of your favorite berries.
Experiment with different citrus fruits like lime or orange for a twist on the glaze.
Add a handful of chopped nuts like almonds or pecans for a delightful crunch.
How to serve blueberry scones
Serve these Lemon Glazed Blueberry Scones warm, preferably fresh from the oven, with a steaming cup of tea or coffee.
Serve these scones for a luxurious breakfast feel like a luxurious or transform your afternoon tea time into a memorable experience.
These scones are also perfect for gifting, brunches, or as an anytime treat. Enjoy every bite, relishing the delightful blend of sweet blueberries and zesty lemon.
You might like more…
MORE SCONES RECIPES
MORE INA GARTEN RECIPES
Print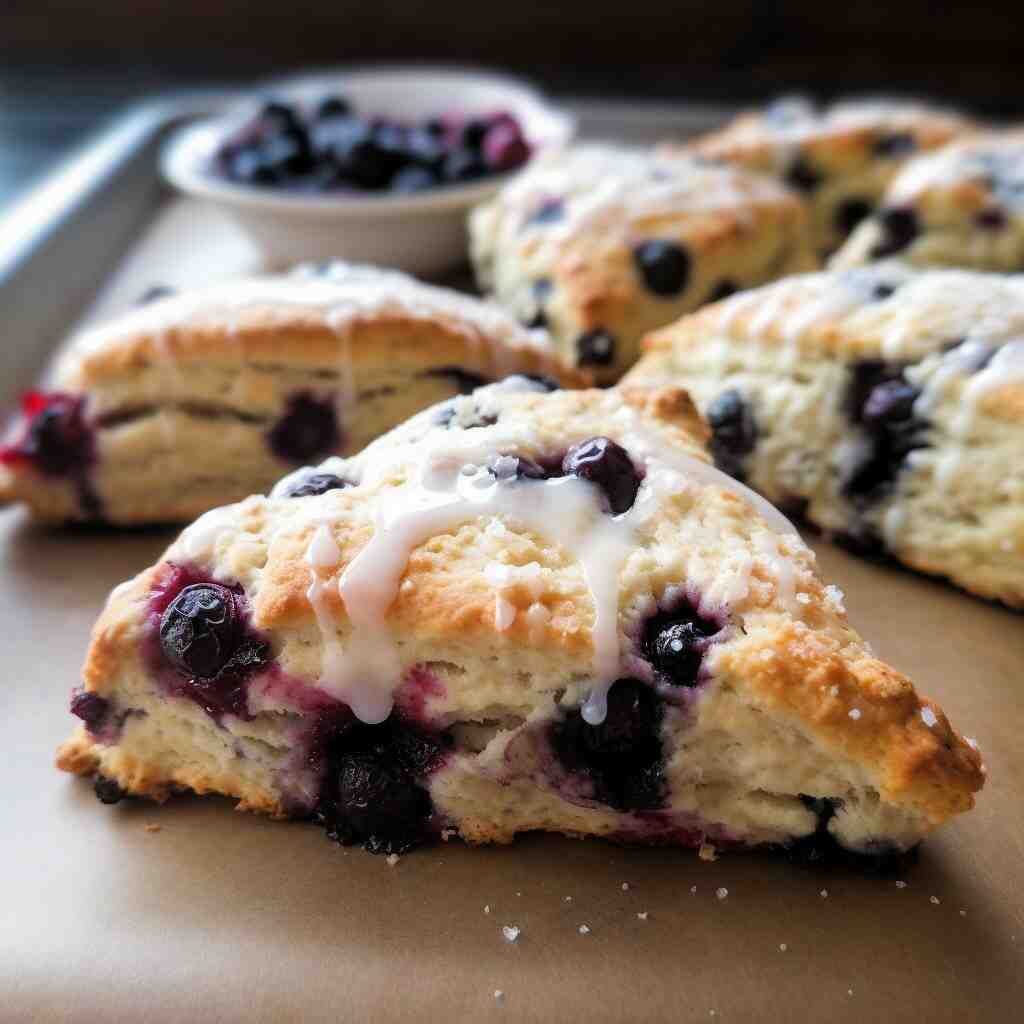 Blueberry Scones Ina Garten
---
2

cups

all-purpose flour

1/2

cup

sugar

1 tablespoon

baking powder

1 teaspoon

kosher salt

1

stick cold unsalted butter, grated

1

large egg, lightly beaten

1/2

cup

cold heavy cream

1

cup

blueberries, fresh or frozen
extra heavy cream for brushing the tops
raw sugar for sprinkling the tops
Lemon Glaze:
2

cups

powdered sugar, sifted

2

lemons, juiced and zested
---
Instructions
Preheat your oven to a toasty 400 degrees Fahrenheit.
Mix together flour, sugar, baking powder and a pinch of salt with an electric mixer with a paddle attachment.
Add in the cold butter and set the mixer to its lowest speed.
Whisk together the egg and heavy cream, and gently pour this creamy blend into the flour and butter mixture as it mixes on low. Your dough might look a bit lumpy, and that's just fine.
Toss in those juicy blueberries, and let them join the party.
Transfer your dough onto a generously floured surface and knead it into a lovely ball. Make sure your hands and rolling pin have a dusting of flour to prevent sticking.
Roll that dough out to a thickness of 3/4-inch, making sure you can still spot some delightful buttery bits throughout.
Keep it moving on the floured surface so it doesn't get clingy.
Shape the dough into a square and slice it into quarters. Take each quarter and cut it diagonally, creating charming little triangles.
Give your scones a cozy brush of heavy cream, and a sprinkle of sugar, and let them bask in the oven for about 20 to 25 minutes when they have browned tops and insides that are fully baked. You'll know they're ready when they feel delightfully firm to the touch.
Allow the scones to cool down before we jazz them up with a delightful lemon glaze.
For the lemon glaze:
Prepare a double boiler (also known as bain-marie) ready,
Combine the butter, sugar, lemon zest, and juice in it.  Mix until the butter and sugar melt together, creating a thicker mixture.
Remove it from the heat and beat it until it becomes smooth and slightly cooled.
Drizzle or gently brush this glaze on top of your scones.
Let it sit until the glaze becomes a bit hazy and forms a lovely, hardened layer.
Enjoy your homemade scones!
Prep Time:

15 minutes

Cook Time:

25 minutes

Category:

Dessert

Method:

Baking

Cuisine:

British
Recipe Card powered by