Those used to drinking coffee at home , extracted with a traditional coffee machine , often do not even realize how many types of coffee it is possible to prepare with a modern coffee machine. Spending a few minutes at the counter of a bar, on the other hand, opens up a completely new scenario both for those who are passionate about coffee and for the curious. There are so many different ways to drink a coffee that baristas generally always wait to know exactly what kind of espresso their customers want before starting the lever coffee machine for their bar .
It starts from the simplest requests such as coffee in a large cup or frothed espresso, up to actual gourmet coffee orders. One of the novelties that is setting the trend is matcha coffee, a fragrant mix of green tea and coffee. And this isn't the only original recipe for making coffee.If you want to experiment with new combinations, you can try coffee with almond milk or surprise your barista by ordering Southern Italian coffee specialities such as the Calabrian and Salento coffee.
While for chocolate lovers, the items on the menu not to be missed are the mochaccino and the Moroccan coffee .
Espresso purists will certainly object, saying that there is only one espresso. However, there are also coffee-based preparations that do not alter the taste at all. Indeed, if we think of restricted coffee we are referring to a pure coffee extract with an intense and creamy flavour.
In short, with a little imagination, coffee can satisfy all palates. The important thing is that the basic ingredient is excellent and that it is prepared with a professional coffee machine. Otherwise you won't be able to get a good coffee even by adding spices, milk or sugar.
So let's go through all the types of coffee to order at the bar:
HOW MANY TYPES OF COFFEE CAN YOU ORDER AT THE BAR
With so much choice, it's only natural that you want to experiment with new drinks every day, both at breakfast and throughout the day. As long as it's simple things, no one will have anything to object to and you will see your every request satisfied.
But by ordering frothed decaf with cold milk by the glass , you might start to annoy your barista.
However it is well known, faced with such a varied menu, Italians want a coffee that fully satisfies them, even if they run the risk of being hated by their trusted barista!
Here is a nice list with many types of coffee , for sure you will find something to try absolutely:
1. ESPRESSO
It is the classic coffee, to be enjoyed in all its nuances of taste. Although it is the simplest way to have coffee at the bar , for espresso lovers it is a real dive into pleasure. In fact, in a cup it is possible to trace the origin of the beans, the quality of the blend and the skill of those who supervised the extraction process.
Even espresso has its nuances: you can drink it unsweetened, with sugar, in a cup or in a glass.
2. MACCHIATO
It is one of the most popular and easy to prepare espresso variants. It is a normal coffee, to which a small amount of milk is added.
You can choose between latte macchiato with hot or cold milk . Furthermore, some prefer to order the macchiato with highly digestible milk or with soy drinks.
3. FOAMED COFFEE
With the industrial coffee machine it is possible to prepare frothed milk with the steam arm.
By pouring a small amount of froth into the espresso, a creamy and delicate drink is obtained. To obtain a good froth it is necessary to give the milk the right amount of air.
4. COFFEE WITH CREAM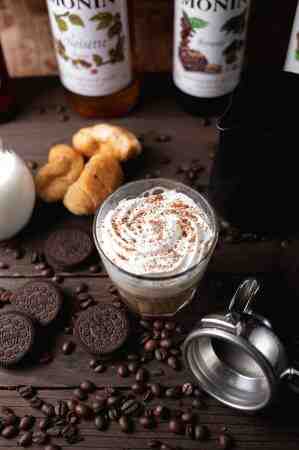 This is an option for real gourmands, it is the classic espresso with the addition of whipped cream . It is somewhat reminiscent of the coffee with ricotta cheese that grandmothers used to drink in the afternoon at home with friends. It is a real pampering to be enjoyed at breakfast or in the afternoon and enjoyed in complete relaxation.
5. DECAFFENATED, DECA or DEK
It is one of the versions that are generally consumed in the afternoon or in the evening to avoid the stimulating effects of caffeine.
Decaffeinated coffee , in fact, is obtained from a powder from which the caffeine content is extracted. However, the taste remains unchanged.
6. COFFEE WITH ALCOHOL
Pleasant and flavoured, corrected coffee is an espresso to which a liqueur of your choice is added . Depending on the areas of Italy, one liqueur is preferred rather than another.
Among the most popular options are sambuca and grappa , pleasant after meals and with a digestive effect. Among the sweet alternatives, however, we can suggest brandy or whiskey cream.
7. BARLEY COFFEE
In order not to exceed the caffeine limit that can be taken daily, barley coffee is a fresh and pleasant alternative.
It is prepared with hot water and soluble barley and can be sipped in both a small and large cup.
It is a suitable drink in the late afternoon or in the evening before sleeping.
8. GINSENG COFFEE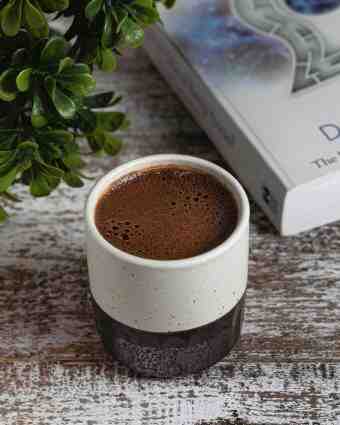 Ginseng coffee is a coffee enriched with the roots of the plant. The taste is very pleasant and the drink has a lighter energizing effect than espresso.
The root of Asian origin is highly appreciated in our country and ginseng coffee can now be ordered in all bars.
9. DOUBLE COFFEE
Suitable for lovers of espresso in all its purity, double coffee is prepared by placing two coffees in the same cup.
It is a double dose of taste and energy, to face the physiological drops during the day with a sprint. It is not suitable for those who should limit their caffeine consumption.
10. SHORT COFFEE
The process is the reverse of that used to obtain long coffee. In practice, with the same amount of coffee powder, the water flow is interrupted in advance.
The result is a very strong and robust coffee , with a dark color and a dense consistency, suitable for those who love to savor the coffee notes intensely.
11. ESPRESSINO
Now let's move on to the real treats. The espresso is a pleasant pleasure break in which not only the milk foam but also the cocoa powder is added to the latte coffee. With this drink, bartenders also try their hand at small works of latte art.
In short, a drink that can make you smile right from the morning.
12. LUNGO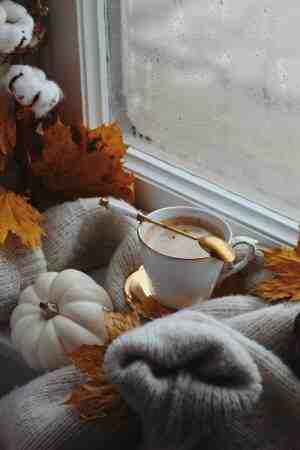 It is a coffee very similar to the American one, more watered down and less full-bodied and is obtained through a longer than normal extraction process .
For the same coffee powder, more water is allowed to flow. It is generally chosen by those who like to allow more time for breakfast without exaggerating with caffeine.
13. AMERICAN COFFEE
With American coffee, the change is already evident from the container. In fact, the drink is a long coffee served in a larger and more capacious cup. Alongside the coffee, the customer is also served a separate container with hot water, which can be added as desired to lengthen the drink.
14. COLD COFFEE
Cold coffee is a seasonal product, which is consumed a lot in the summer. It is prepared in advance , sweetened and stored in the fridge. You can also use the Moka but opt to use a professional coffee machine for a less watery and more consistent taste
15. ICE COFFEE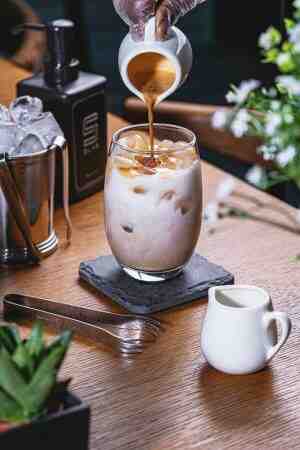 This version is also perfect for hot days. In fact, coffee in ice is refreshing and fresh, an excellent drink for those who love coffee but prefer to avoid hot espresso.
The hot espresso is prepared on the spot and then poured into a glass with ice cubes. The coffee is thus cold immediately without having to wait even a moment. In order not to get too watered down coffee, you can put the glasses in the freezer.
If you want to try it out here is my step by step guide on how to make delicious iced coffee at home.
16. SOFFIATO ICE COFFEE
Soffiato in italians means "blown". It is a very tasty variant, widespread in Lecce, Italy in particular: the espresso is prepared and poured into a glass with ice and sugar.
Thanks to the arm of the steam, everything is mixed and a dense foam is created on the surface of the glass.
17. ICE COFFEE WITH ALMOND MILK
A fresh and sweetish version of iced coffee is obtained by adding fresh almond milk.
It is a becoming a very popular drink asked to baristas and also served in beach bars and in the cities alike.
18. SHAKERATO COFFEE
As the name implies, you need to use a cocktail shaker to prepare this drink. Add sugar, ice and coffee to the glass , which are then vigorously shaken. Then follow by adding a dash of liqueur and optionally chocolate, turning it into a pleasant dessert.
19. CAPPUCCINO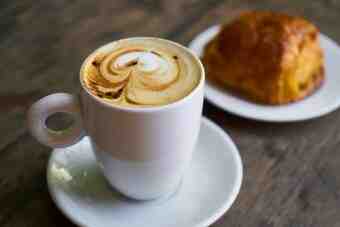 Cappuccino is one of the most classic and popular drinks worldwide. This thick, frothy drink is strictly sipped only for breakfast in Italy – a heads up if you're travelling there. But non Italians like to sip it after lunch, dinner and even before sleeping.
It is obtained by heating the milk with steam and adding the espresso coffee. This manoeuvre must be done very carefully to give the drink a better consistency.
20. MOCHACCINO
A drink suitable for cocoa lovers , the mochaccino is obtained by adding a little hot chocolate to the classic cappuccino.
It can be served in a cup or glass, both in the morning and in the winter afternoons. I really love it when they decorate the mochaccino with chocolate topping.
21. DECAFFEINATED CAPPUCCINO
It is a perfect drink for those who like a cappuccino without its caffeine content. It is prepared by adding decaffeinated coffee to milk.
You can also try the decaffeinated soy cappuccino, prepared with the addition of soy milk, ideal for those who follow a vegan diet and for the lactose intolerant. And the list goes on…
22. DRY CAPPUCCINO
It is a less liquid and more consistent cappuccino. To prepare it, you mix the frothed milk with the coffee and then steam it all together.
Not all bartenders know this drink but, just give a little explanation, to be able to sip dry cappuccino anywhere.
23. CAPPUCCINO WITH COCOA
Cappuccino with cocoa is very simple to prepare: just sprinkle the surface of the cappuccino abundantly with cocoa and serve.
I never managed to understand how bartenders are able to create real works of art in the cup, to wish good morning.
24. MILK WITH COFFEE
Latte macchiato is one of the drinks that is most easily consumed even at home. It is prepared by mixing a small amount of coffee with hot milk.
In general, coffee prepared with a traditional coffee machine is used and can be added to cold or hot milk or the extract obtained with an espresso machine.
25. CAFFE LATTE
Caffe latte is a drink that contains a larger quantity of milk than the classic cappuccino.
It is very popular for breakfast or on winter afternoons. The milk is first heated with the milk frother, which makes it creamy and soft, and then incorporated into the coffee.
26. MATCHA COFFEE
Matcha coffee has been around for quite some time and yet in some countries like Italy this is still a novelty spreading like wildfire. Matcha coffee is prepared by inserting high quality Japanese tea into cappuccino or coffee . The result is a bright green drink thanks to the Japanese tea.
The taste is pleasant and lighter than that of traditional coffee, while the energising action comes from the tea content.
27. COFFEE CREAM
It's a small amount of pure taste and pleasure: the coffee cream is prepared inside a machine, mixing the espresso with cream and ice.
It is usually served in summer, accompanied by whipped cream and chopped hazelnuts .
In some bars it is offered as a replacement for espresso, on other occasions it is offered as a dessert.
28. LIGHT OR DARK CAPPUCCINO
Whether it is prepared with the coffee machine, or with the traditional moka, the cappuccino can change color depending on the amount of coffee.
With a small dose you will obtain a light cappuccino while with a larger quantity the cappuccino will be dark in colour.
29. COFFEE WITH CINNAMON
To flavor the espresso and give it a spicier taste, an original idea is to put a sprinkling of cinnamon on the top. In addition to cinnamon, the spices that go well with espresso are cardamom, vanilla and chilli pepper . Some people also suggest making coffee with star anise.
30. COFFEE WITH NUTELLA
Those who love pleasurable drinks have certainly already experimented with coffee with nutella or nutellino. Or he will after reading this article on Italian coffee types .
Preparing it is very simple: just take a spoonful of nutella and spread it on the edge of the cup, then pour the espresso. You can also add a spoonful of cream.
31. ESPRESSO MARTINI
An alcoholic version of the drink, the Martini espresso is a fresh and heady cocktail to sip on summer evenings. It is served in a previously frozen Martini glass and decorated with coffee beans. The basic recipe calls for: vodka, Kahlua, liquid sugar, a cup of espresso coffee.
32. SALENTO COFFEE
A typical drink of the southern regions, Salento coffee is a slightly different version of coffee with ice.
The bartender serves the customer a coffee and a glass of ice. Then it is the customer himself who doses the ingredients and prepares the drink as he prefers.
33. MOROCCAN COFFEE
In this case, saying good is too simplistic compared to the explosion of taste left by the Moroccan . All the favorite flavors of professional gourmands are condensed into a glass: bitter cocoa, espresso coffee, frothed milk, in a mountain of layers dominated by a further dusting of cocoa.
34. CALABRIAN COFFEE
With Calabrian coffee you have to take a step up in terms of preparation. It is a drink made with espresso coffee, licorice powder and brandy, or cognac according to taste.
Before serving, dissolve a teaspoon of sugar in the liqueur and then add the espresso.
PREPARE BARISTA COFFEE AT HOME
Coffee drinks are truly varied. With a little creativity it is possible to obtain many types of coffee with a unique and extremely delicious taste . However, the important thing is to make sure that the basic ingredient is the right one: a very high quality espresso coffee .
Thanks to the a very high quality espresso coffee machine it is possible to prepare any type of coffee-based drink at home , in a simple and fun way. Our machines, in fact, are produced with extreme attention to detail, so that the extract maintains all its aromatic notes and can be declined according to taste.
Each model is equipped with a steam wand and a wand for frothing milk , to be handled for the preparation of excellent cappuccinos, coffee with milk and latte macchiato. For other types of drinks, however, all that remains is to make the espresso and get the ingredients needed to create a home cafeteria, where you can try your hand at experimenting with coffee-based preparations and pamper your guests with a rich menu like the one of the bar.