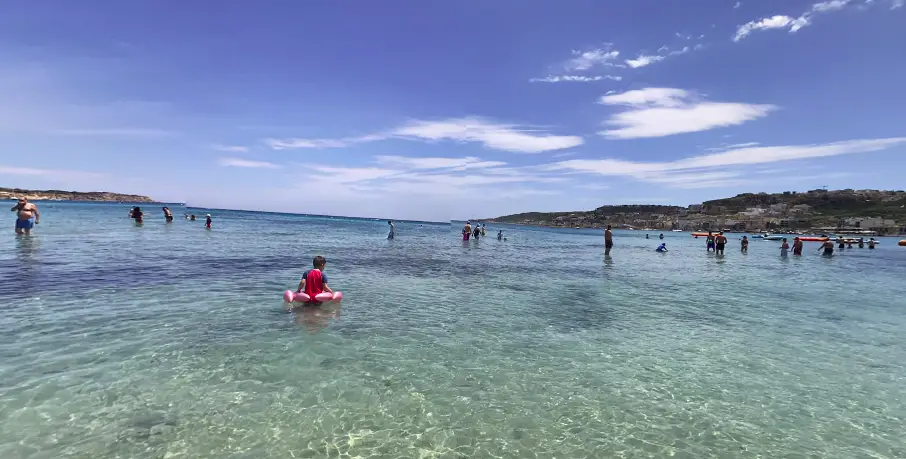 Its sand has a low gradient slope and together with its clear, shallow water makes Mellieha Bay Ghadira the most popular family beach on the island.
Mellieha Bay Location: North East Malta
Distance by Car from Valletta: 41 mins (29.4 km)
Bus Stations Nearby Mellieha Bay and Walking Distance:
GHADIRA: 290m / 3 mins
Bus Lines from Valletta B7/B5 to Bus Station (Note: Add walking distance from the station to beach)
41/42 to GHADIRA: ~47 mins 31&X1 to GHADIRA: ~53 mins
Mellieħa Bay has most facilities and services including restaurants and two hotels. Some parts of the bay are designated for water sports and wind surfing.
Mellieħa Bay is the largest beach of the many beaches around Mellieħa. It is situated in a U-shaped valley where a large beach stands in between two headlands in the Northern part of the island.
Due to its formation (it's believed to be a rift valley), the sand is shallow even meters away from the waterline. This together with the clear water make it the most popular beach of the island.
Unfortunately, the road built exactly across the beach make it lose points apart from most sand being lost without any more sediment is deposited by watercourses. Also, there are no sand dunes or marshlands that can protect the beach sediment from the wind and so unless something is done the beach will be lost in time.
Beach management is operated between June and September by the Malta Tourism Authority with the cooperation of Mellieħa Local Council. It includes the services of lifeguards, a small First Aid clinic, two beach supervisors and a number of persons in charge of beach maintenance. It is an accessible beach furnished with a mobile toilet, wheelchair access and special sand wheelchair buggies for physically impaired bathers. Mellieħa Bay has an old castle perched on one side while the old village of Mellieħa is situated high on the opposite side. The hinterland of Mellieħa Bay was once an important salt flat and wetland, known as L-Għadira. It is now a Nature Reserve that boasts of indigenous flora and fauna, and is popular with bird watchers who study local and migratory birds. Mellieħa Bay is also referred to as L-Għadira.