Gnejna is a family favorite among Maltese residents especially in the weekends that already packed with people by 9 a.m. and is also still packed till late in the evening with friends and families enjoying barbeques on the beach.
Ġnejna Bay is located close to the rural village of Mġarr. Possibly not quite as popular with tourists as neighboring Golden Bay and Għajn Tuffieħa but quite a hotspot with the Maltese. Finding a quiet spot on the beach is difficult even early on weekdays and is practically impossible to find parking after 9 am on weekends.
Location: North West Malta (Map)
Address: Triq Il-Prajjet | Anchor Bay, Mellieha, Island of Malta MLH 4808, Malta
Activities: Surfing, hiking, snorkelling, photography and beach related activities
Amenities: Sandy beach, rocky beach, toilets, parking, Bars/Restaurants, Ice Cream, Wheelchair Accessibility, Suitable for Kids, Umbrellas & Deckchairs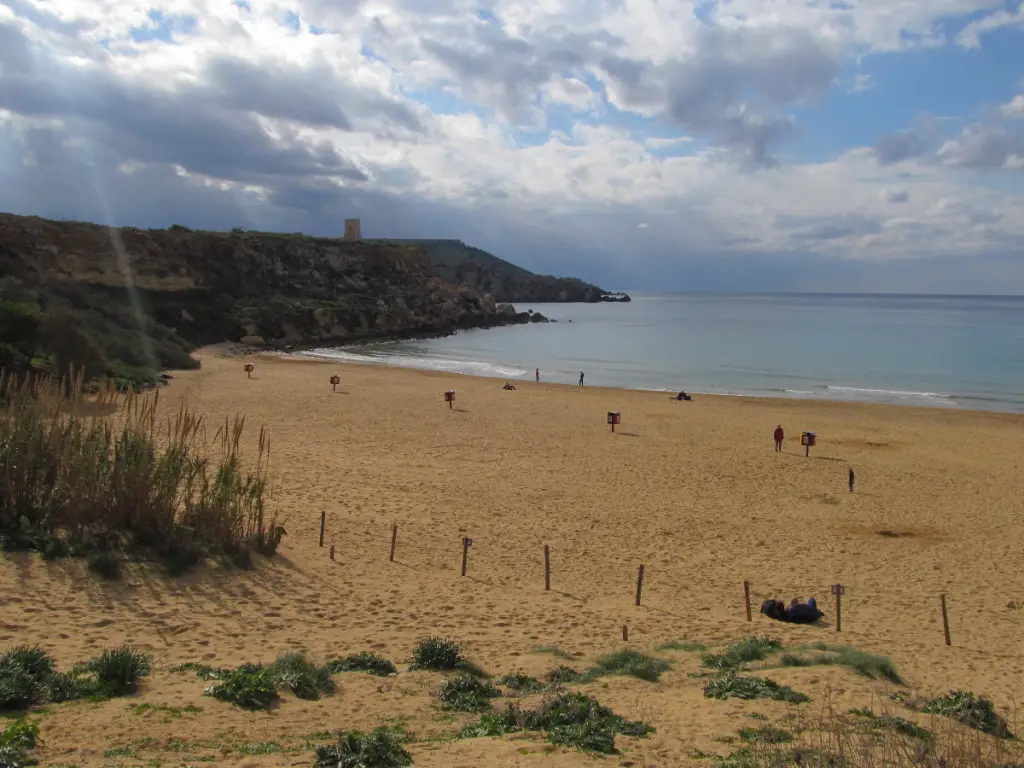 ---
Article Summary
Things to do at Gnejna Bay
Swimming at Gnejna Bay
The waters here are generally calm but it is more suitable for good swimmers. Unfortunately, the beach is strong affected by North Westerly winds which can make it tricky to swim for novice swimmers.
A long and somewhat rough walk along the right-hand side of the beach takes you to an area that is popular with the more adventurous bathers. By the right-hand side of the main sandy beach, there is also a stretch of flat rock ideal for sunbathing, if you prefer to avoid the sand. Some facilities are available, including watersports rentals.
Walk to other beaches
The Gnejna bay is just one of larger and even nicer set of beaches like Qarraba Bay, Ghajn Tuffieha Riviera Beach and Golden Bay which are separated by small picturesque hills. Direct access by car or bicycle is not possible as these are countryside tracks usually great for trekking. However, don't worry because the distance is relatively short and even amateurs, young kids and older people can walk it as long as it is not too hot.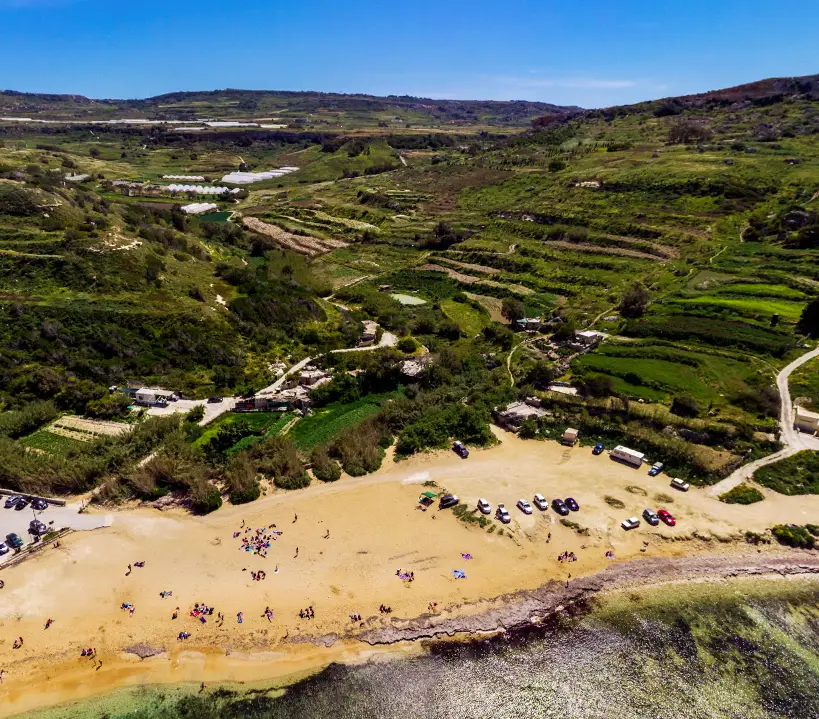 Barbecue on the beach
Gnejna bay is one of the few sandy beaches where it is still possible to do cookouts and barbecues even for a large number of people. However, before doing so you would need to get a permit from the local council or relative authorities
How to get to Gnejna Bay by bus?
Using the bus to arrive to Gnejna is a little complicated and in Summer I definitely suggest using bus 44 and bus 101 that it stops you 2 minutes walk from the beach. Otherwise, you need to stop at a bus stop named Mixquqa which is 30 minutes away with no shade.
Bus Lines from Valletta B7 to Bus Station (Note: Add walking distance from the station to beach)
44+101 to GNEJNA: ~60 mins (+2 mins walk)
44 to MIXQUQA: ~50 mins (+30 mins walk)
When to visit the Gnejna Bay
Gnejna Bay can be visited all year round, however it might not always be suitable for bathing. In fact, when there are strong North West winds blowing swimming might become tricky.
During Winter seasons many people like to hike around Gnejna where it is possible to access by walk through the country side to the other beaches of Qarraba Bay, Ghajn Tuffieha Riviera Beach and Golden Bay
How much is the access ticket for the beach?
The access to the beach is FREE
Where to eat & drink near Gnejna Bay
Grill & Chill – Gnejna Bay
Ta' Celita – Sunny Bar and Restaurant
Munchies Golden Bay – Spiaggia D'Oro
Nenu the Artisan Baker Mġarr
United Restaurant Mgarr
Where to stay
db Seabank Resort
Mellieha Holiday Centre
Radisson Blu Resort
Solana Hotel
Pergola Hotel
Nearby beaches…