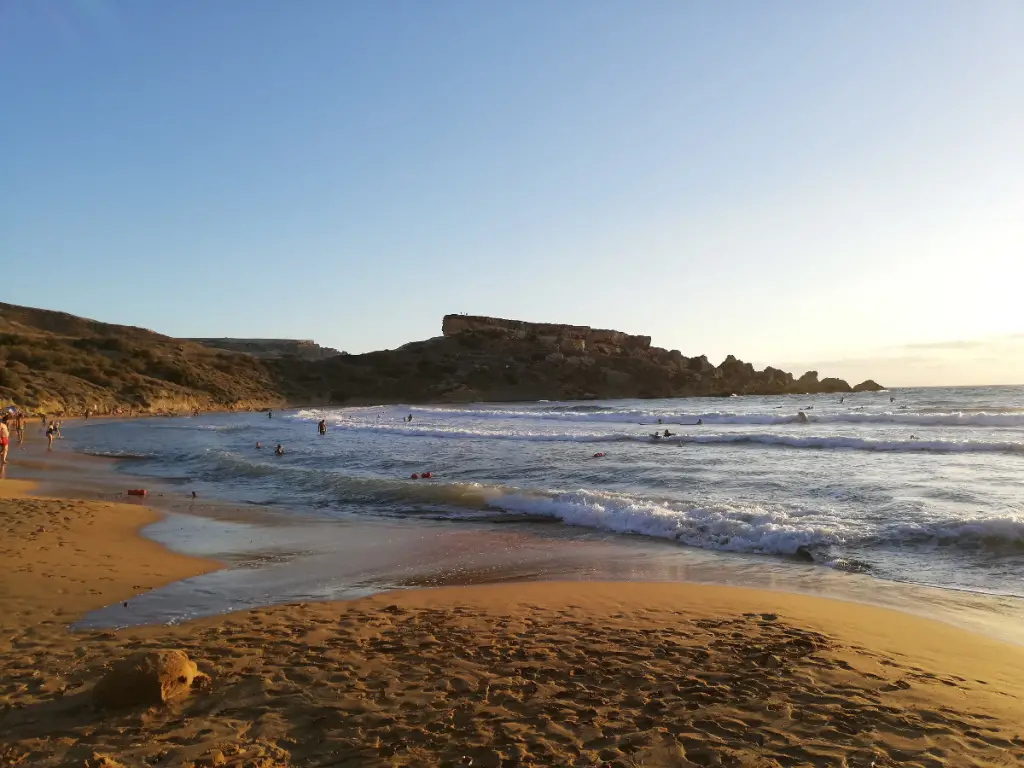 This is definitely in my top 3 favorite sandy malta beaches. The sand is impressively golden almost reddish in color. Here you can enjoy the most wonderful sunsets with a truly amazing setting.
Anchor Bay Location: North West Malta
Distance by Car from City: 35-40 mins (19.7km)
Bus Stations Nearby Ghajn Tuffieha (Riviera) Beach and Walking Distance:
RIVIERA: 600m / 7 min MIXQUQA: 1.2km / 14 min
Bus Lines from Valletta B7 to Bus Station (Note: Add walking distance from the station to beach)
44 to MIXQUQA: ~60 mins 42+223 to RIVIERA: ~60 mins
This is a very popular sandy beach nestling below hills and an unusually shaped promontory. It is unspoiled and undeveloped, yet has all the facilities you need to enjoy a day on the beach sun lounger and umbrella hire, pedalos, and a small snack bar.
The beach is generally safe for swimming but it is prone to strong currents when there is north-westerly wind, which blows strongly and is the prevailing wind in Malta. In fact, rip currents tend to occur because of the breaking waves and thus presenting a high risk for the novice and even more advanced swimmers. On the bright side, this strong wind and currents make the beach suitable to learn while also offering good fun for advanced surfers when the waves are big.
Undoubtedly, Għajn Tuffieħa often called Riviera by the locals is one of the nicest among Malta beaches and also my favorite here due to its unspoiled natural views. However, don't come here if you want to bathe in turquoise waters since the number of species such as Posidonia oceanic is very common here. As a designated Marine Protected Area, this vegetation forms important nursery, breeding, and nesting grounds for several species of fish and invertebrates.
The beach boasts a designated natural park on the hillside behind which together with the fine sand and rural surroundings make it even more alluring. On the downside, the beach is only accessible by a steep flight of steps or by a gravel track and that is why it is less crowded than its neighbors, Golden Bay and Mellieha Bay. A headland to the west side of the bay with unique geological features separates the two pocket beaches name Ghajn Tuffieha from Ġnejna Bay.
Before bathing, I suggest looking out for a red flag that indicates when bathing should be limited to shallow waters only. In summer, there is usually a lifeguard and safety ropes affixed along the bay. If in doubt, stay on the beach, dip your feet in the water, walk on the sand or jump over the waves in shallow waters. I always choose to have fun jumping waves and have fun in the water feeling dragged by the swash.