Anchor Bay and Popeye Village Viewpoint have one of the top panoramic beach settings in Malta. This tiny picturesque beach is at the foot of the old set of the film Popeye in the North West of Malta.
Anchor Bay is mostly known for Popeye Village, the set of the 1979 film starring Robin Williams as Popeye. Today, Popeye's village still occupies the slopes of Anchor Bay. The film set is filled with a number of colorful huts making it popular with tourists, youngsters, and families.
Location: North West Malta (Map)
Address: Triq Il-Prajjet | Anchor Bay, Mellieha, Island of Malta MLH 4808, Malta
Facilities: Diving, Sandy Beach, Rocky Beach, Snorkelling, Toilets, Panoramic Views, Bars/Restaurants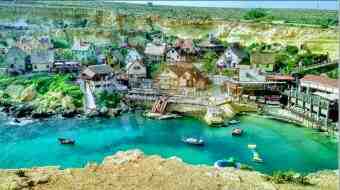 ---
Article Summary
Things to do at Popeye Village
Swimming and Diving at Anchor Bay
The waters here are generally calm but it is more suitable for good swimmers. I have also used this beach as a novice diver because of the shallow depths and an interesting reef. In fact, it might be an ideal place where to dive in the winter months because the bay is often sheltered with weaker currents even in adverse weather conditions.
Walk to Popeye Village Viewpoint
The tiny picturesque beach accessible from the village itself is also used by fishermen who perch on this little isolated quay hidden in between cliffs just one kilometer away from Mellieha. For those wanting to visit the rocky beach without paying the village's entrance fee, there is also Popeye Village Viewpoint and a path to Anchor Bay accessible by foot.
Visit Popeye Village
There are shows, a cinema, rides and museums, and play areas where children can climb and explore the village. You can also get to meet the main characters from the show such as Popeye, Olive Oyl, Wimpy, and Bluto. There are also a few restaurants and a place to sunbathe and swim
How to get to Anchor Bay & Popeye Village by bus?
The most cost-effective way to reach Popeye Village is by using a bus which can take up to 70 minutes plus another 8 minutes walk from Valletta. You can also consider other buses like:
Bus 221 from St. Paul's Bay,
Bus 222 from Sliema or St. Julian's,
Bus X1 from the airport.
Bus Lines from Valletta to Anchor Bay
101/41 to POPEYE: ~70 mins (+8 mins walk)
41 to SKRAJDA: ~60 mins (+ 28 mins walk)
When to visit the Popeye Village
Popeye Village is open most of the year, only closing during low periods for annual maintenance in Autumn (dates are not fixed) and also occasionally due to bad weather. If it's raining, you can still go to visit the village but there are a lot of hills and it will get slippery when wet.
Opening Days (Winter 2022-2023)
November – December: 04/11/2022 -07/12/2022, 09/12/2022,12/12/2022, 14/12/2022-16/12/2022
January – March: 06/01/2023- 24/02/2023, 03/03/2023- 09/03/2023
Opening Hours
In the autumn / winter season (September- March) the village is open from 10.00 – 17.00
In spring (April – June) the village is open from 10.00-17.30
In summer (from July 1 to August 31) the village is open from 9.30 am to 7 pm
In spring (March until June) and autumn (September and October), the village is open from 9.30 am to 5.30 pm.
How much is the entrance ticket for the Popeye Village?
Easter Special
Date: From Friday 31st March to Sunday 16th April

Price:
Adults and Pensioners @ €10.00
Children (3-12 years) @ €20.00
(Tickets bought online are not refundable)
Other non festive period
| Adults / TEENS | Seniors over 60 | Children from 3 to 12 |
| --- | --- | --- |
| EURO 14.00 | EURO 9.00 | EURO 9.00 |
Where to eat & drink at the Popeye Village Viewpoint
(0.95 mi) Amami
(0.95 mi) Blu Beach Club
(0.82 mi) Salia
(1.20 mi) one80 Kitchen
(0.96 mi) Westreme Kitchen
Where to stay
(0.84 mi) db Seabank Resort
(0.74 mi) Mellieha Holiday Centre
(1.71 mi) Radisson Blu Resort
(1.22 mi) Solana Hotel
(1.26 mi) Pergola Hotel
Nearby beaches…